This post is another Hallmark sponsored post. I am being paid by Hallmark to write it, but all writing, ideas and opinions are mine. Thankfully, Hallmark and I share the same idea–that little moments are to be celebrated and that good people, good efforts and good intentions deserve a spotlight. See Hallmark Life is a Special Occasion for more details, like them on Facebook, and/or sign up for their e-mail messages HERE.
I have this dream of the perfect friend date.
In my mind, it will happen soon.
They're all there–all the friends that mean the world to me. Especially the ones that don't know it.
And on this date, I get to spend an infinite amount of time with each and every one of them. I have a hand-written bulleted list of all the things each friend brings to my life, and I present it to them in an envelope I've illustrated with funny comics of the two of us together and the funny memories we share. They'll laugh at first and then they'll read my list. They'll be amazed because all the things they've ever done for me? I remember it all. They'll walk away feeling special and inspired and they'll go home and tell their husbands, "She appreciates me. She even remembered that time I told her to wipe the lipstick off her teeth. She made me feel so loved."
I wish this could happen. I really do. Because I do remember. And I always harbor a bit of you-could-do-better guilt for not living up to my expectations of loving and recognizing and honoring my friends like I really want to. There just isn't time.
I think in this enterprising, demanding time of life when kids and family and paying bills are our obvious priorities, we constantly make efforts to trim off excess responsibilities. When we're busy and stressed, we lighten the load of our ship by jettisoning things that aren't necessary in our schedule–T.V., naps, long showers. I think sometimes though, in "Time Triage," we cast off necessary things, thinking the trade-off preserves more family time. Sadly, precious time with friends is one of these.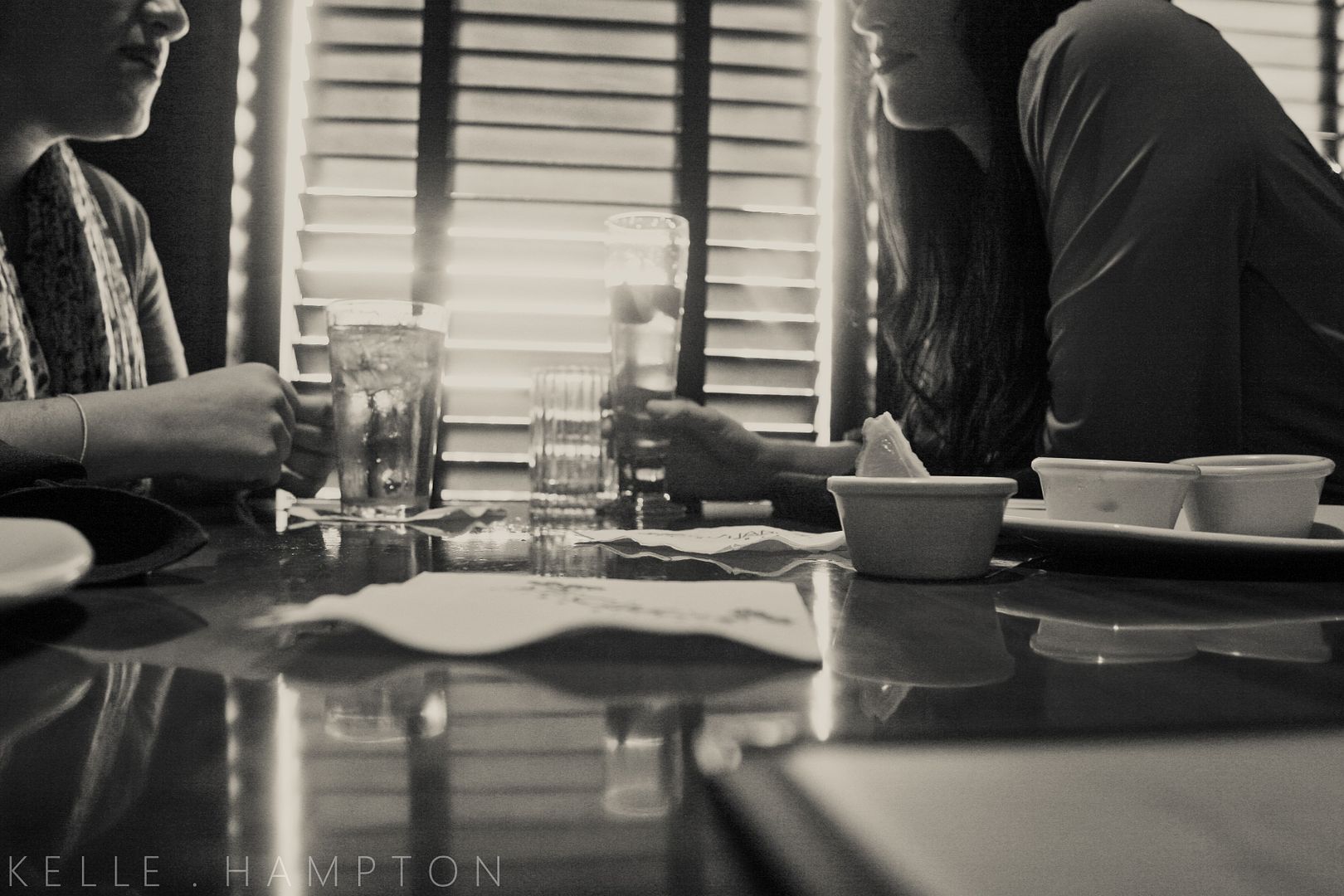 Let me tell you something. Friends. Should. Never. Be. Abandoned. If your ship needs to drop weight, throw the clothes overboard. Chuck your cell phone. Hell, get rid of necessary food. But friends? They are the life raft on the ship. The one with the big yellow sticker that says "Do Not Tamper." And, God forbid, if your ship ever goes down…you need them.
Out of the kajillion blessings Nella's birth experience brought to our life, one of the most treasured is my deepened recognition of the value of friends. Those pretty orange life rafts that served as decoration, fun, company–well, when the ship is in jeopardy, guess what? They inflate, just like they promise. They hold you up and take you to dry land, and if you've ever experienced it, you know never ever to take a friend for granted again.
Easier said than done. There's always too much to do and not enough time to do it, and the reality of life with jobs and kids and families truly means time with friends is going to suffer. But I'm not letting it go down out without a fight. Nuh-uh.
Behold, a Tip Guide for The Fight:
Making Time for Friends
1. Get Creative.
Sure, I envision Brett watching the kids while I'm cozied up in a bar booth, hugged by friends on all sides and we are laughing and sipping and leaving with the promise to meet up–same time, same place–next week. This is a four-leaf clover discovery though, a lucky encounter cherished on rare occasions. In the meantime, we have to get crafty for enjoying each others' company. Which is why I like to kill two birds with one stone–turn necessary activities like grocery shopping or carpooling to a birthday party into meaningful friend time.
We "Target Alert" each other. A simple text dispatched to friends: "Hitting Target in five minutes. You in?" And being that a trip to Target is always on the to-do list, more often than not the response of friends is something along the lines of "Meet you in the dollar section."
And if you haven't experienced it, Synchronized Grocery Shopping is right up there with dinners and happy hours and perfectly planned events.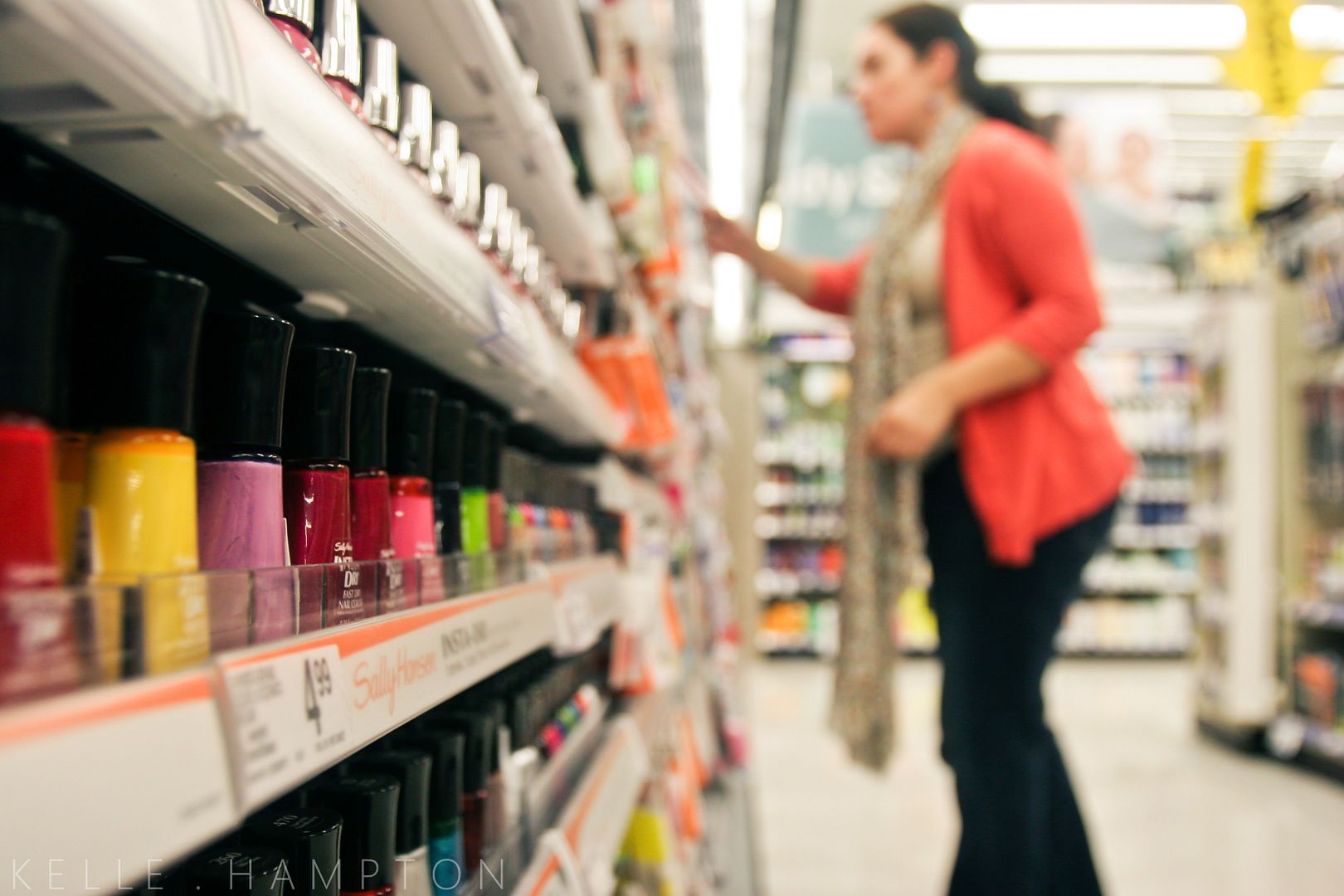 Heidi and I do it all the time–strolling through aisles, cart to cart, throwing embarrassing things into each other's baskets, planning each other's dinner menus, catching up on important matters of business.
2. Incorporate the Kids
Some of my favorite friend moments have been nothing more than two of us, cross-legged on a kids' bedroom rug, talking about life while we watch our kids smear chap stick on each other or play dolls.
Park dates turn into afternoon parties when more mamas are present and, while kids are climbing and swinging and sliding, we stretch out on a blanket and dream. And someday, when life is even crazier, we will talk about how great it was when getting together was as easy as an all call to the playground or a pow wow on a bedroom rug.
3. Lower Expectations
I love to entertain friends, but I've built up in my mind that it has to be perfect–that I can't invite people to my home unless the floors are mopped and candles are flickering and the oven's about to ding in thirty seconds, perfectly timing hot coffee cake for arriving guests.

This is my friend Dede's house. She lives across the street and yes, her house always looks like this.
If this was the case, I'd never see friends. I've learned good friendships come with vulnerability, and some of the most beautiful conversations can indeed happen while sitting on top of two-day old smashed laundry.
This moment? It will not be forgotten.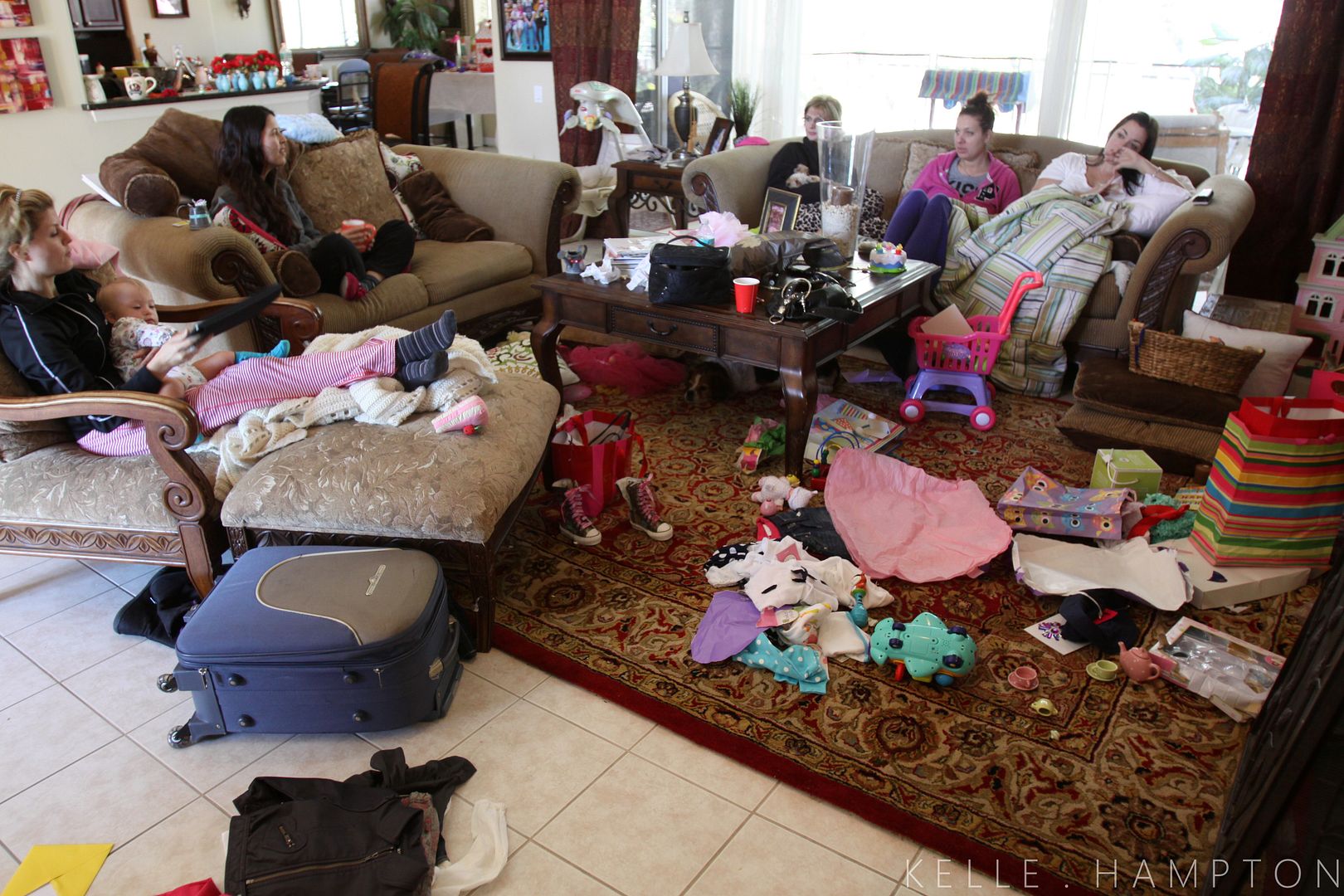 This is my house. I live across from Dede and yes, my house always looks like this. Okay a lot of the time.

Invite them over. Mi casa, su casa, Baby.
4. Get it on the calendar.
I can't tell you how many times we've excitedly planned a night out, a trip to the movies, etc. and never followed through. We'll talk on the phone and say things like "Girls night next week, right?" and we answer, "Absolutely, can't wait," but next week means nothing unless it has a date on it. Unless it's been typed into a phone calendar with an alarm the day before and a back-up alarm the day of. Time with friends is worth the effort of purposely planning dates. Better yet, make a reoccurring plan and stick to it.
Every Sunday morning, I have coffee with my friend Wylie. It is a given–something I look forward to all week.
Tuesdays are lunch with my friend Andrea after ballet and Fridays are afternoons with Dot. We do our best not to cancel, and when we have to, we feel the loss.
If we can make time to show up for doctor appointments, hair cuts and ballet class, surely we can pencil in a good renewing moment with friends.
5. Desperate Measures
If it's been a long time since I've contacted a friend or I feel like I haven't done a good job at showing interest in her life or asking how things are going, sometimes I feel guilty and deal with it by further avoidance. Being forthright and honest is always the best medicine. Sometimes, it feels good to pick up the phone and call. To leave an "I've been thinking about you" message on a Facebook wall. To text a funny picture to let them know they haven't been forgotten. Or sometimes a simple apology. "I've been busy, I'm sorry I haven't been there for you." The best kind of friends are like a cactus–they don't take much "work" to grow and are easy to maintain, but even a cactus needs a little water now and then.
Desperate measures mean spontaneity. Call your friend and tell her to drop everything and meet you at Starbucks. Get your kids in the car and invite your neighbor to the park with you. Text an all-call for sunset on the beach, or knock on your friend's door in your pajamas late at night and tell her you need a chat.
Speaking of, one of my favorite friend moments lately? Pajama dates. When kids are asleep and the moon is bright and I'm about to go to bed…but no. There's an opportunity to nurture a friendship. A quick dash across the street to Dede's house. Because finding time for friends means searching for any available pockets of time. And I guarantee you, that fireside chat last night was far more replenishing than the sleep I missed.
Someday, I will plan that perfect date. But for now, I will continue to make efforts and find ways to nurture my friendships because they are a valuable part of my life.
Do you have any creative ways for fitting in time with friends? Any memorable traditions that you make efforts to maintain? Hallmark and I would love to know how you make time for your friends. Do tell.