The wind was wild on the lake Monday afternoon, awakening the sleepy surface into steady waves—small but significant. After my cousins and I got tired of trying not to fall off the skinny dock where we lined up to talk, we moved our conversation huddle to the boat.




We filled up the cushioned seats and overflowed onto the floor where some of us sat crossed-legged on wet turf. My dad eventually rescued us and transformed our stationary soiree into a fast moving one, and as we ventured out for a leisurely cruise around the lake's perimeter, I couldn't help but launch into a game of "If."




"If you could be anywhere right now in the United States, where would you be? Describe the scene."

Answers varied from lively family reunions in Colorado ski lodges to solitary cruises on Route 66. Which opened up another conversation: "How do you refuel yourself—being with people or spending time alone?" While solitude answers began pouring in, my dad immediately jumped in and answered for me. "You recharge with people. You have to be around people, Kelle" he blurted out. Reflexively, I immediately disagreed, almost ashamed—like it was much cooler to say I recharged by being alone, as if solitary recharging reflects some heightened state of confidence or strength over those who have a "people crutch".

"I recharge by being alone too," I said defensively yet weakly, knowing he was probably right though. The thing is, alone time and people time are both necessary for reenergizing all the hidden parts that make us tick. I value quiet walks alone, solitary drives, reading in bed and the rare trip to the beach without kids when I sit and watch the sun set while I challenge myself, think up new ideas and offer grateful sentiments out into the void. But I'm also not going to deny the fact that I'm wired to be most brilliantly inspired when I'm with people. When I listen to them, laugh with them and allow their energy to join forces with mine. And if that means I've not arrived at some heightened state of confidence or strength, I'm cool with that. It's not that I can't be alone. It's just that people are kind of awesome.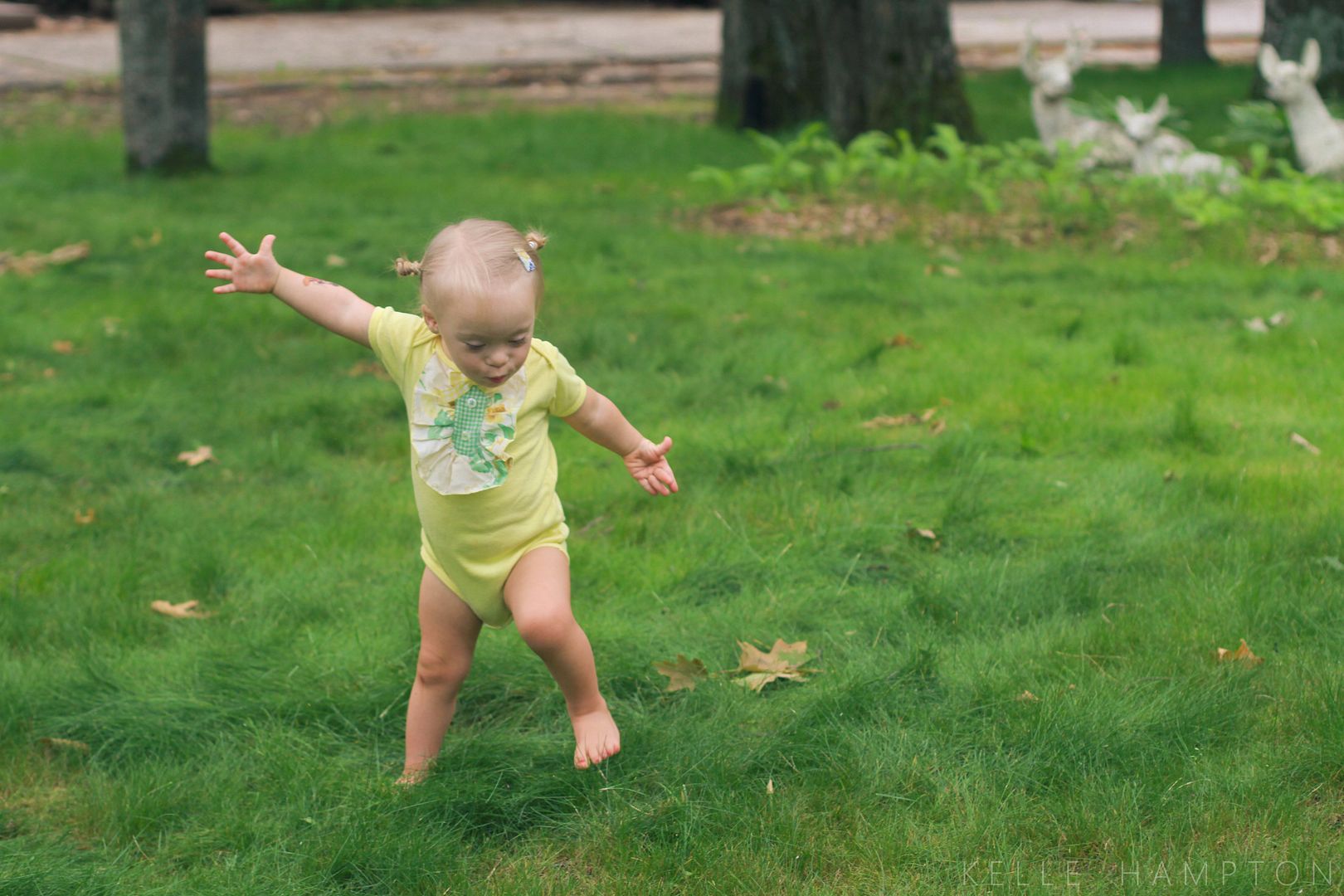 The past couple of weeks have so beautifully woven together both quiet solitude and energizing crowds, and I am refueled by all of it. Our many days of rest and naps, walks down to the dock and nights when the only sounds you can hear are coyote calls and bullfrog grunts have been perfectly contrasted with loud laughter echoing from the bonfire, kitchen chatter over coffee and sibling dance parties.



Antiquing with cousins at Lewiston's Antique Depot



Quiet time with family

I squeezed in some fun photo shoots for my niece, Savannah, and her friend, Ali; and my cousin, Tessa--three beautiful, compassionate girls with bright futures.




*****

On our last night alone at the cottage last night, we ventured out to a marshy part of the lake that promised good fishing.




We've been here well over a full week, and Brett wanted so badly for Lainey to catch a fish, but it hadn't happened. After an hour with no activity, we took a pizza break next to the lake. It was quiet and wonderful—perfectly refueling.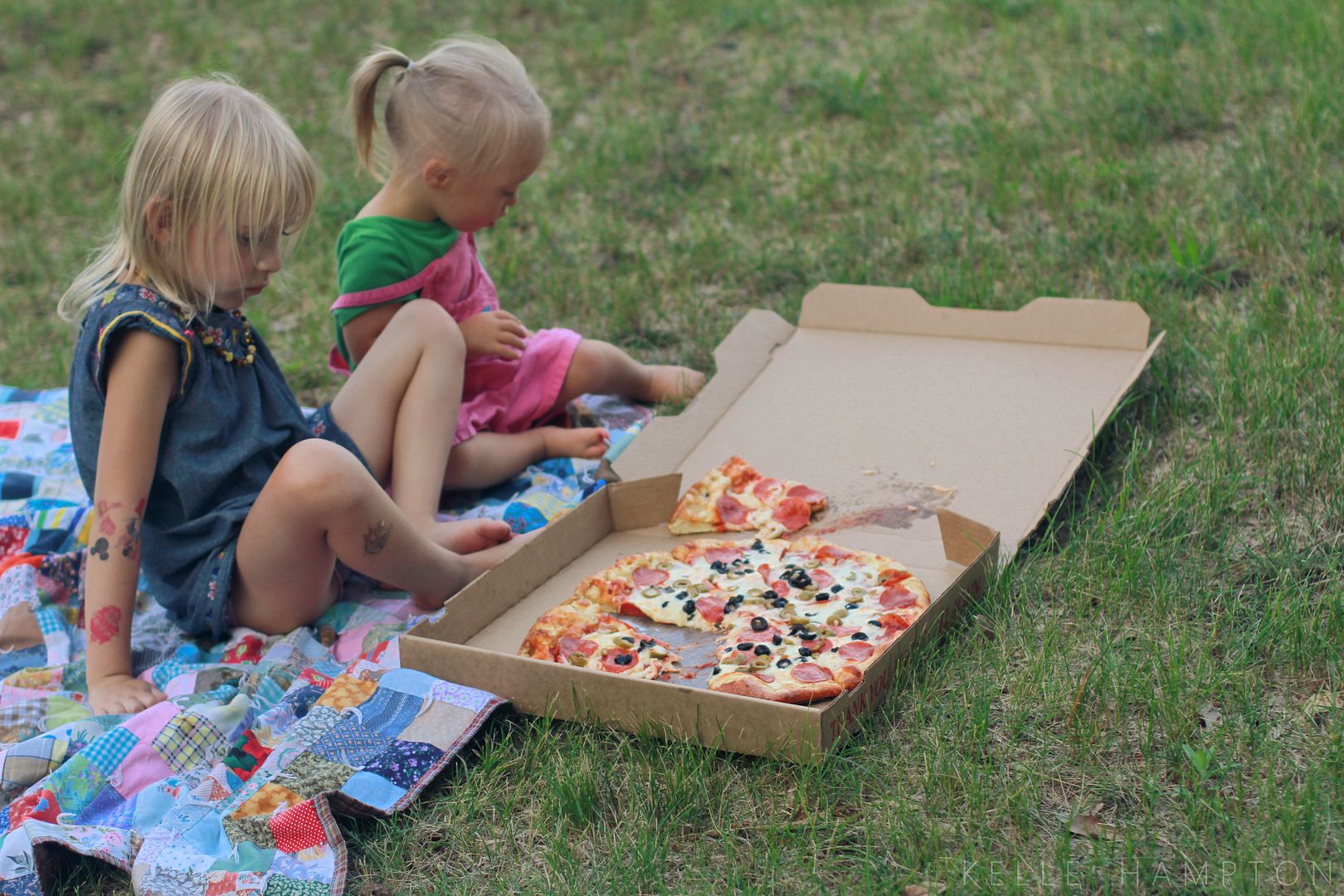 We headed back home, adding catching a fish to our short list of things that didn't happen on this trip (never did find that Petoskey stone either—so I bought one). A block from the cottage, Brett pulled the car over and stopped.

"One more place," he said. "We have to try one more time."

So, as the sun slipped past the tree line and the sky slowly dimmed, I guided Nella to wade in a rocky shallow area while Brett and Lainey put out their first cast. And there you be—a bite, a bobber snagged, a victorious smile on the daddy's face.

"Reel it in, Lainey! Quick!"

She did as she was instructed, finally raising her pole to reveal a small, colorful bluegill, its scales shimmering in the last of the day's light.




She proudly showed it to Nella, protectively pulling it back when her sister got too close.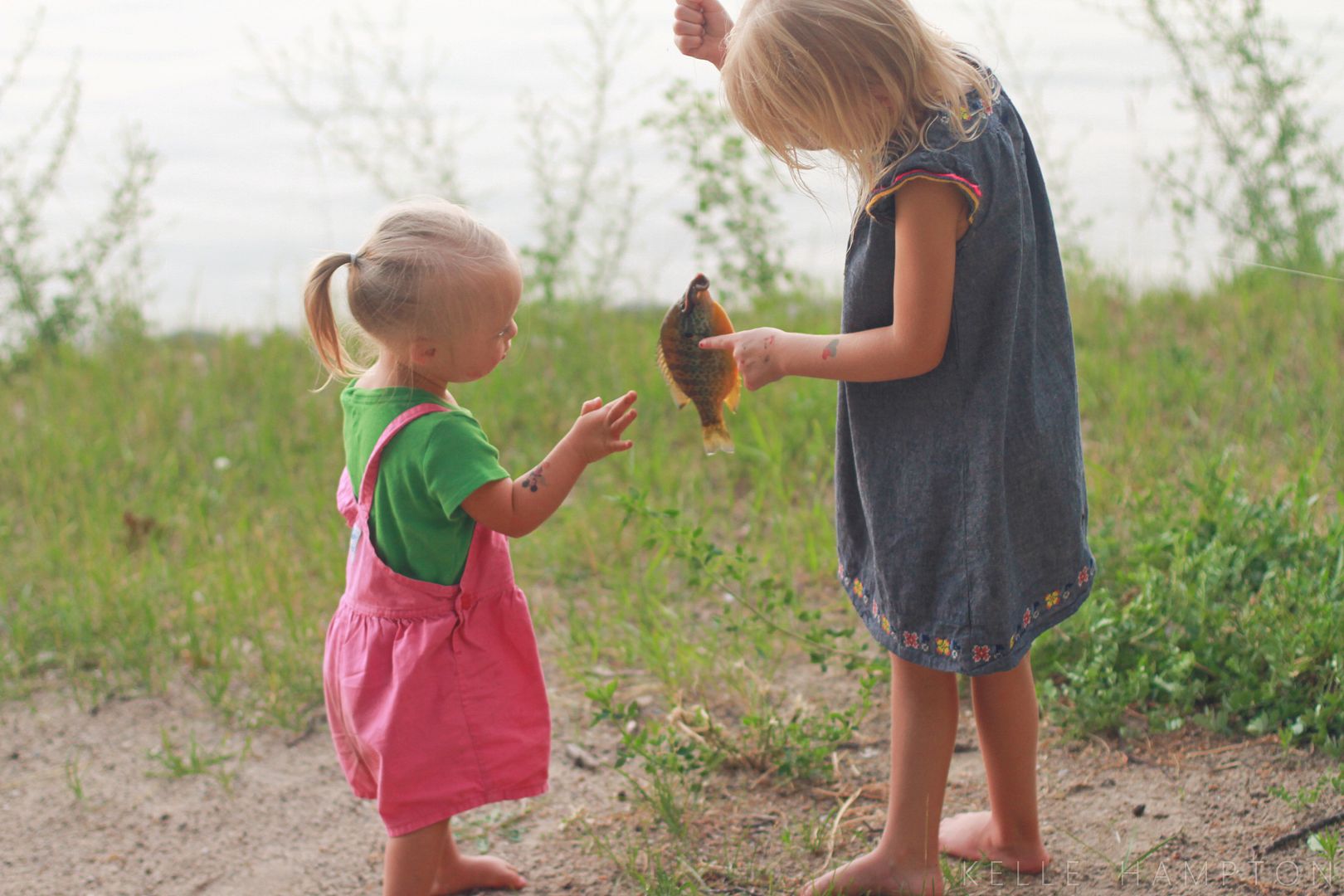 And if that wasn't the perfect way to end our stay at the cottage, finding a friendly Michigan butterfly was.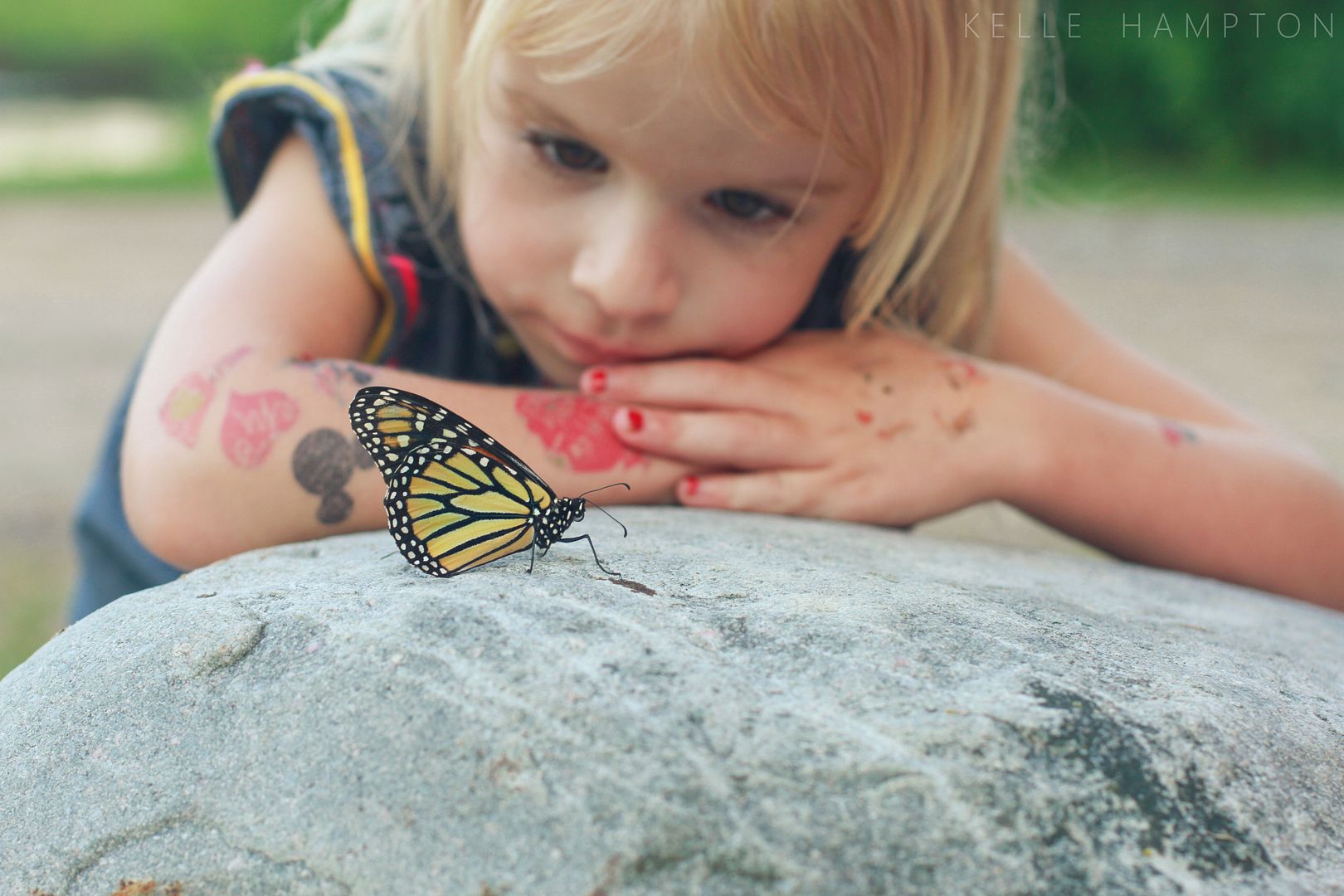 So, it's vacation. I got a little lax on our temporary tat rules.


As we drove through flat farmland in Indiana tonight, after we stopped at Lake Wawasee to enjoy some drinks and appetizers with friends, I breathed slowly and took in the scene. A radiant pink sun setting over corn fields, red barns that seemed to appear every half a mile, a small downtown Main Street, speckled with antique shops and old brick buildings.

"I think my brain grew on this trip," I told Brett.

Maintaining his gaze on the road in front of him, Brett smiled and answered simply. "Really? Cool." Because that's the sort of thing you answer to statements like that. It did though--my brain grew. This whole people fix/quiet solitude mix did something to me. I can't wait to get home to unleash the power--the ideas, the new initiatives, the redefined focus.




For the record, that solitary drive on Route 66? Yeah, that would be awesome. But it wasn't my answer. To thine own self be true: I love me some people.

******

Last week's Friday Photo Dump:





And your #enjoyingthesmallthings photos on Instagram: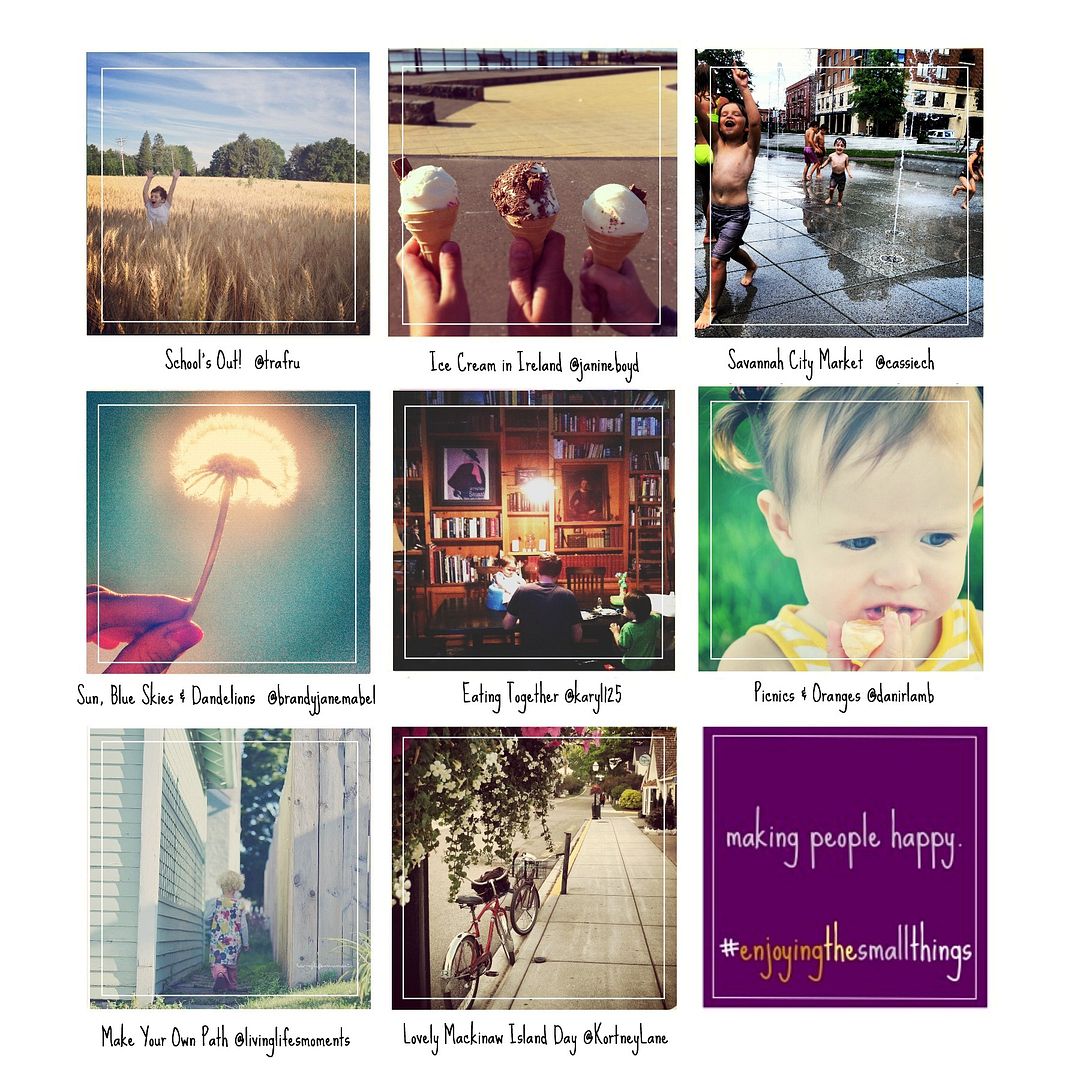 *****

Finally, I have a fierce friend who has a lot of other fierce friends. This force of fierceness has built an amazing business that is growing but needs help to turn big dreams into big reality. If you've been reading this blog for a while, you may be familiar with the past sponsor, Mamalode magazine. You might even get it in your mailbox and if you do, you're probably smiling. Well Mamalode is back to sponsor again, but she (I'm going to personify this publication, because she has far too much heart to be an "it") has a specific mission this week. A mission that needs your help.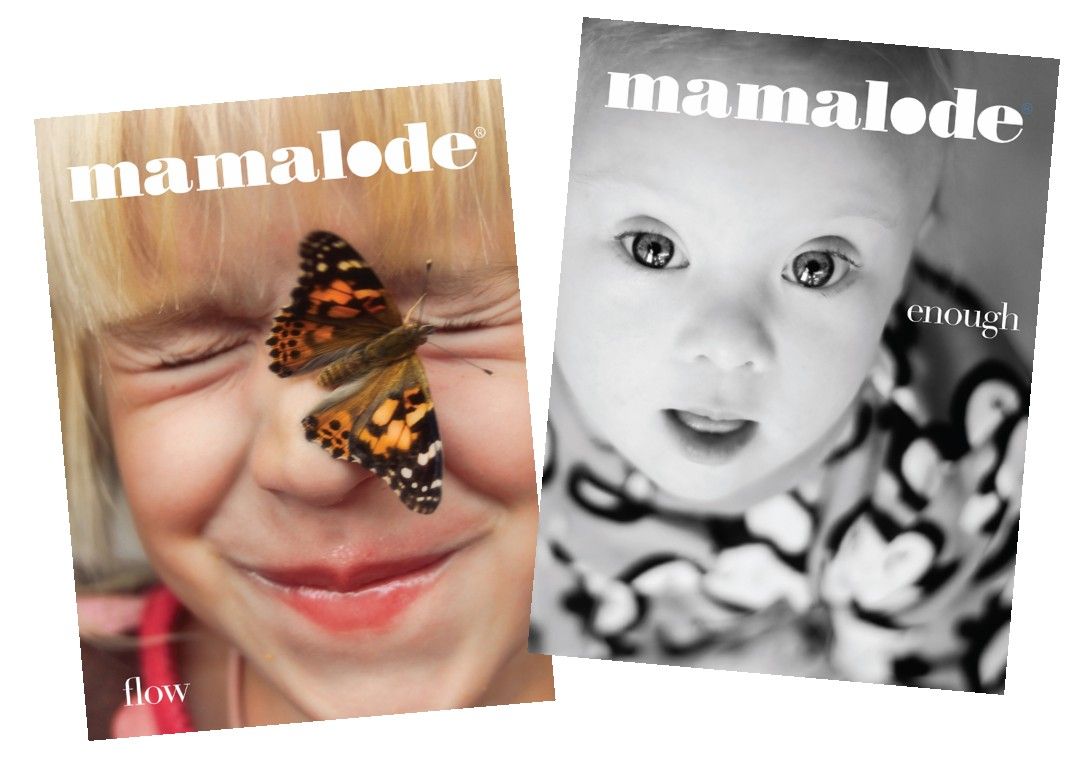 Missionsmallbusiness.com is giving up to 12 small businesses a $250,000 grant. And Mamalode has an amazing plan to expand to reach more mamas--a plan that was going to take just about that amount of money from investors. This grant would allow Mamalode to keep equity and creative control and, above all, continue their mission of inspiring and connecting women in bigger and better ways.

Read Publisher Elke's admirable plea here.



Fierce Elke in her home office

Then head over to Missionsmallbusiness.com, log into support (through Facebook), type "mamalode" in the blank box that says "business type." And vote. You can support other small businesses in your area as well, but a business must have at least 250 votes to even have their grant proposal read.

Help a sister, a village, a powerful, passionate force out! Help make big dreams become big realities. I believe in Mamalode.

*****

Goodnight from Carmel, Indiana. Regular organized posts will replace long, rambling vacation posts soon!