I did something really stupid today, and I don't know why I did it. Perhaps it's the Cryderman gene responsible for weird spontaneity, the same one that, last year, compelled my cousin to pen a letter to her daughter from the tooth fairy explaining that her four day delay on leaving a dollar was because she was held up...in jail (which, for the record, isn't true. My cousin's a good girl. One of the best).

It was a serene breakfast moment. Brett was feeding Nella at the counter and Lainey was happily marrying her bagel halves into a cream cheese sandwich at her table. I went to refill my coffee cup and noticed the gorilla mask Brett used to scare me the night before was lying on the counter (that's another story).

I don't know why I did it. I should have thought it through. But I didn't. I put the mask on and walked toward Lainey's table and roared at her.

I roared. It was definitely more of a cute bear cub roar than a ferocious lion king roar, but still...I roared. I wish someone would have stopped me, really. I thought it would be funny. I thought the saddle shoes and the coffee cup I was holding would most certainly give it away. That I wasn't a gorilla but just a funny mom.

It went badly. Very. There was this look of terror I'll never forget, even though I only saw it through the blurred vision a rubber eye hole with fur offers. My stomach dropped, and I whipped the mask off so fast, my cheek got rubber burned.

Why, oh why, did I think a four-year-old would laugh at a gorilla mask?

There were tears. I ran to hold her, squeezed her tight, told her I was sorry, promised her I'd never do it again, and inside scolded myself for being so thoughtless.

Brett, unscathed, scooped Nella another bite of food, flashed me a look and calmly asked, "And you were thinking that would be hilarious?"

We learn.
I did.

But I made it up to her.

Determined to make the best of a short sliver of sunshine today, I loaded up the car and drove. I had no idea where we were going and I changed my mind three times on our drive. Beach, no; park, no; fruit market, no. So we continued south, past Old Naples, until we landed in the parking lot of our Botanical Gardens. A welcoming scene greeted us: a crew of volunteers in summery straw hats pulled weeds and pruned flowers and smiled at us as we made our way to the entrance.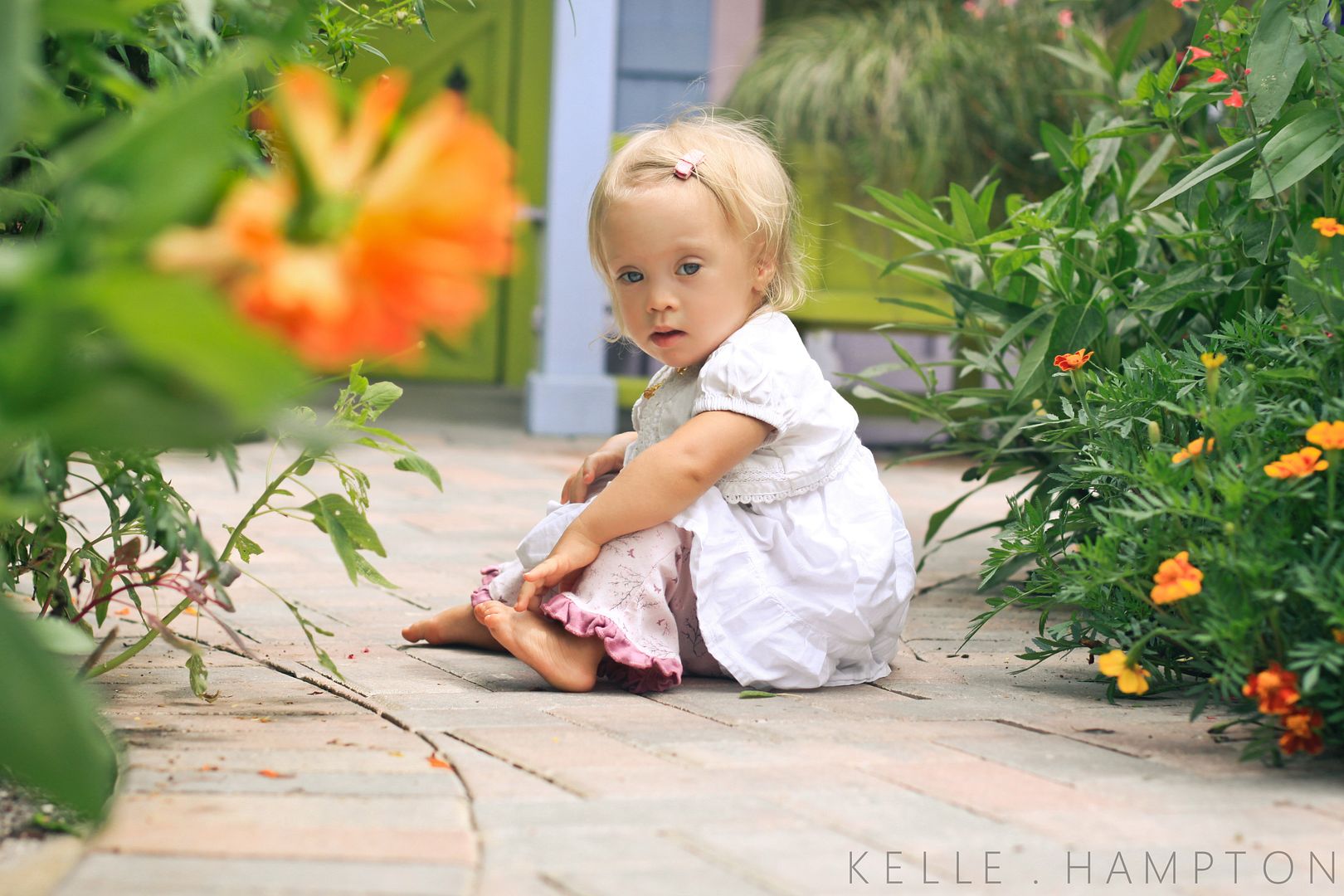 It was humid and buggy and I quickly regretted my choice of jeans, but there was a breeze, two happy girls, and some overcast skies that finally proved useful.




We forgot our bathing suits for the fountains, but that didn't stop the woman at the beach yesterday. So, we stripped down and frolicked. Well, the girls did. My clothes stayed on and frolick, I did not. Okay, I frolicked.




Nella likes to climb and investigate solo.




She does not appreciate Sister's assistance.




But she does smile every time Lainey tries to take a picture with my phone. It makes me swoon.




I witnessed several moments today that made me near breathless with humble adoration for these two little spirits whose souls are interwined not only by common genes but by moments and memories and this obvious security they feel in each others' presence.




It just happens. Right when I'm digging for goldfish crackers or rolling up my pant leg for the fiftieth time. I'll catch them locked in this moment of sisterhood. Lainey knows just how to smile to make her laugh. And little sister knows just how to laugh to make Lainey smile.




Gorilla mask's got nothin' on that.

We stayed just long enough to wear them out and run through an entire trial-sized bottle of overpriced organic mosquito repelling oil, the only one the gift shop sold.

But again, it was worth it. Because it always is.




The gorilla mask is packed away deep in the Halloween closet, and we are preparing for more rain, more crafts, more mushrooms in our woods.




And more rainy days mean more moments in my kitchen gettin' fresh with a sharp-dressed man.




He's a Scentsy brick, in case you wondered.

*****

The $50 gift certificate winner for Amber Silva's Stella & Dot store is Comment # 373, Evelyn Louise: "I got down here, saw that quiet water, and it looked so inviting. I jumped in, clothes and all, and floated on my back in the rain. It was amazing."
Seriously, best quote ever.
Now I want to find a body of water in which to float fully clothed in the rain.
Heading to the beach for a week...perhaps I'll find that body of water and a rainy sky.

Evelyn Louise, congratulations. Please e-mail your info to kellehamptonblog@comcast.net, and you will be soon be sportin' some new jewels.

*****

Have a great weekend!