Sometimes it is easy to ladle up happenings in our home with strokes of the keyboard and pour them into a nice serving of blog post, one that summarizes fairly well the present state of our lives. Other times, I sit and contemplate just what it is I want to skim off and present--what, out of the all the little moments and feelings and revelations I've had in a few days, do I want to piece together with words and publish?




One of my most confidently answered questions is "Do you take pictures all the time?"
Smile.
Why yes, of course I do...in my mind. I am subliminally aware during a quiet moment of cradling Nella's flour-sack little body to sleep or initiating a raucous round of tummy tickling with Lainey that somewhere in the universe, there is a transcendental viewfinder and a click of a shutter, framing that precious fleeting moment. But these moments are many and, in comparison, photos are few. So, certainly--realistically--no. Any mother who recognizes the rich and multiple occasions in a single day that are photo-worthy will understand that a blog, a memory card, or a keyboard with only twenty-six letters and a sticky "p" key are hardly capable of capturing them.




That's the beauty of blogging. Overall, anyone's life is large and intricate, layered with multiple feelings, experiences and moments, most of which are not captured with film or words but preserved in the infinite files of memory. And I like that--the challenge of selecting the most poignant reflections for me to look back on years later and yet the knowledge that there are the unshared moments as well. Just as precious. But just for us.




You're wondering what I'm getting to. No, this isn't some passive aggressive declaration. Like when someone updates "I hate men" as their Facebook status and everyone's wondering what the hell happened and who did her wrong. No wrong done. Just thoughts on something that makes me happy.




******

School is out and there are more occasions now for gathering friends. And that makes me happy too.




So does quietly assuming my bystander postion on the lanai and making the decision to take an otherwise undocumented moment of my family and turn it into something we'll remember for good.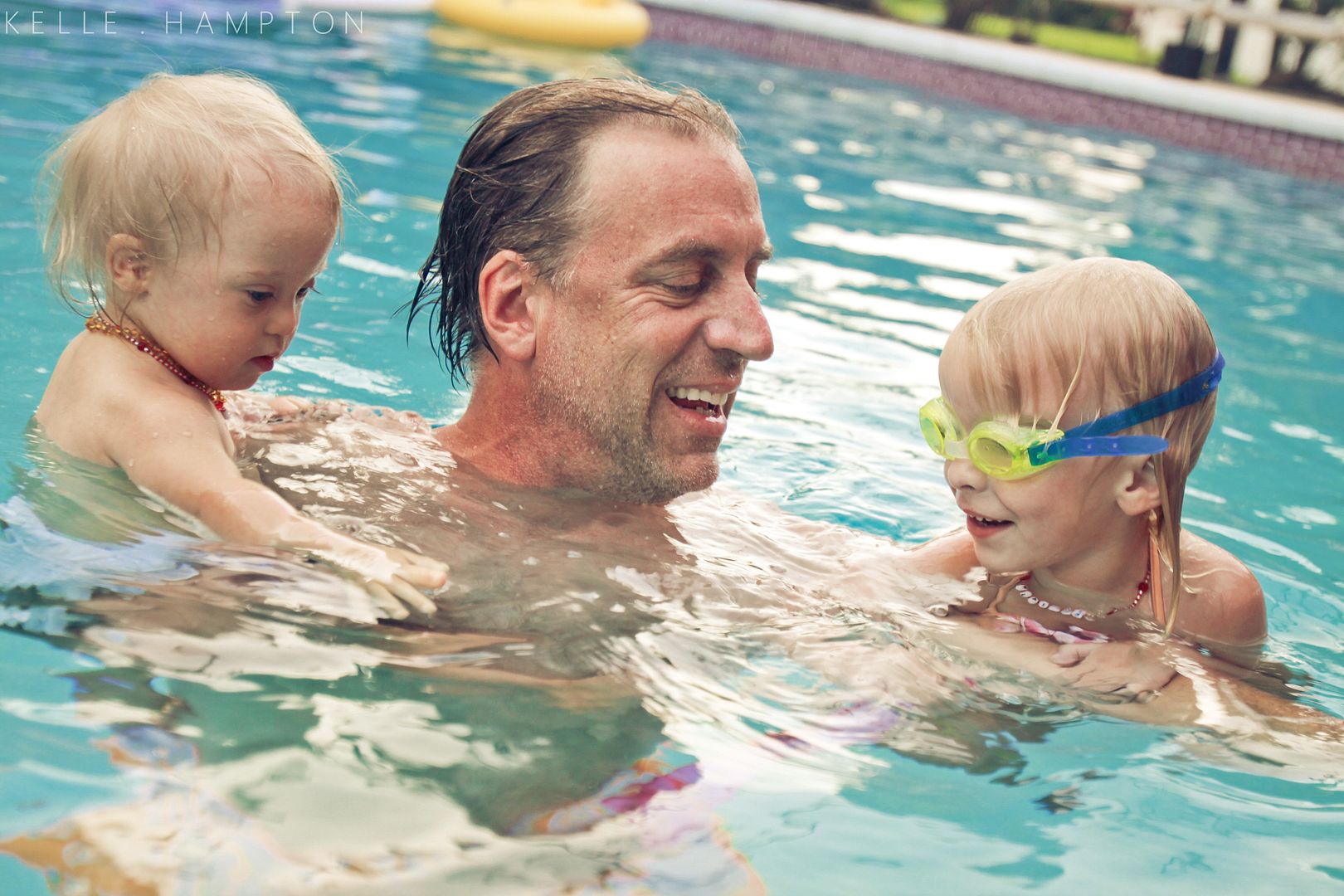 *******

Sister has a big head about her growing independence and her new moves.




She's a show-off, and she thrusts that little pushcart like it's her job, steadying her quick stride with just enough resistance so it doesn't get away from her...because she's smart like that.




And God forbid a neighbor walks by or she's going to have to stop and wave.



'sup, Neighbor?

******

We picked the hottest hour of the day today to hit the park and, because I oddly plan these trips, I chose the non-water park, forgot to pack drinks and wore some black layered impractical button-up/tank combo that might as well have been sheepskin.




I swear the woodchips were smoking. And I was sweating so profusely, one leg wouldn't stay crossed over the other; it just kept slipping. But kids don't care. In freezing temps, they pee in their snowsuits and ignore their frostbite just so they can sled down one more hill and in blistering heat, they pay no heed to their moms who are wheezing and hallucinating, begging them to wrap it up. They keep climbing, scouting out the next source of fun, oblivious to any discomfort.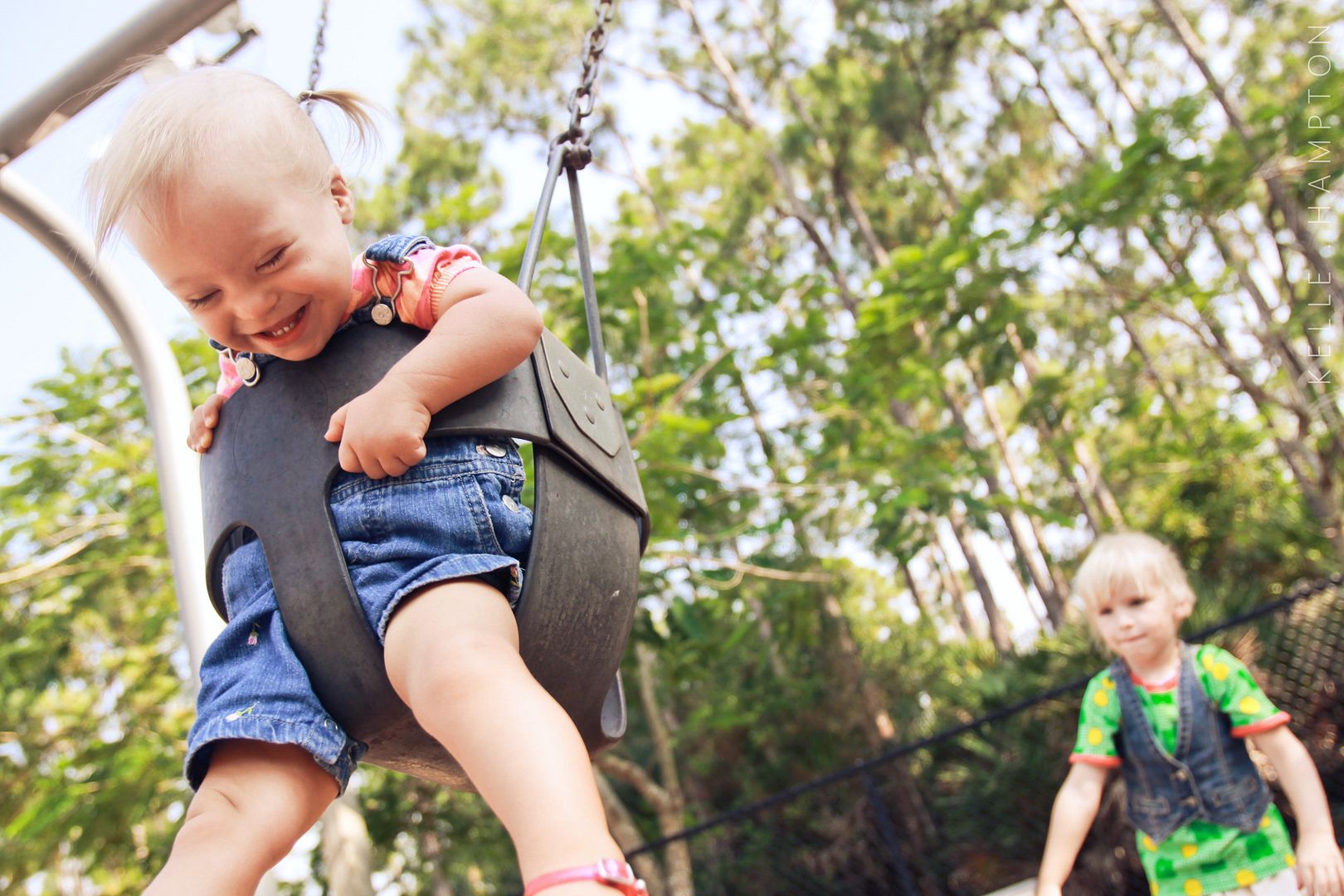 I love learning things from my kids.




As my dad always told me, don't be a thermometer, be a thermostat. Thermometers only measure the temperature around them. Thermostats change it.

I so enjoyed reading your summer lists and "stole" a lot of suggestions from your list for our growing summer adventures. The winner of the $25 Just Ducky gift certificate goes to Comment #247, Southern Gal:
Love this post.
Create a gallery wall in my den.
Spend time at the beach.
Go tubing down the river.

Southern Gal, please send your contact info to kellehamptonblog@comcast.net.

And I have another fun new sponsor to introduce which is appropriately timed a week after Brett picked up another old cast-off purse of mine, littered with gum wrappers, old receipts, a lone dollar bill and a favorite lipstick I had long forgotten. "Can't you just pick one bag and stick with it?" he asked.

Hello, Stick-with-it Bag:




My new Elisalou Designs bag, and I love it. My boho bag is sturdy, cute and has two fantastic pockets in the inside so digging for a pen doesn't leave me fishing around all willy nilly, pulling up a tampon instead (yes, of course this has happened.) Elisalou offers a great selection of unique and catchy fabrics as well as several shapes and designs (wallets, wristlets, Kindle and Ipad bags...). Check them out, and use code SUMMER for 10% off your order!

Oh, and one of you will be winning this boho bag right here (and tucked in its pocket, a picture Lainey drew for you).




A randomly selected comment from this post will be chosen and announced Friday.

One more thing. Are you plugging away on a June challenge? I'd love to have you share a photo that represents your challenge, and several will be shared on the blog. Please upload your photo with a short description (make sure we know what your challenge is) on the June Challenge Flickr group. And if you don't have a photo to share, feel free to come check out some others.

Looking forward to seeing what you share!

Happy Day.




Ah yes, the saddle shoes. What, those old things? Pshaw. I wasn't going to bring them up, but since you did, fine. Alright I admit, I forced two pictures hoping you'd notice. I'm in love.