Random things.

Afternoon Light.
There's this magic spot in our yard that glows every day come six o'clock. And by glow, I mean sunlight generously pours through the woods and breaks into these golden beams that put on a show in the patch of grass under the big tree in our side yard. As long as it's not cloudy, I'm guaranteed to catch a beam grazing the cheeks of my girls if they're still enough.




The Formidable Spider.
I am walking outside today--smiling, welcoming the sun, thinking about how much I love the $5 blue shoes I picked up in Key West--when suddenly I stepped right into the intricate web of an orb weaver spider. I knew it the second I felt its sticky threads adhere to my cheeks, and I completely flipped when I looked up to see the spiny back of this little mama just inches from my face.



Stay in your web, little mama.

Night Swims.
Yesterday, we used our pool for the first time this year. It's too expensive to heat it in the winter, but the sun is a close friend now, so a dip in the pool is no longer a shocking, breath-holding experience.




But the night swims? Oh, the night swims. They are my favorite. There's something magical about swimming in a moon-lit pool--scanning the black sky through the screen, searching for the Big Dipper, making shadow charades in the glow of the pool lights and tuning in to the accompaniment of crickets from the woods behind us. It feels very summer camp, and I hope my girls remember every bit of it.




Superdogs.
Our dogs are badasses in more ways than one but mostly because they have survived the torment of a toddler who dresses them, showers them, wraps them in blankets and sometimes puts them in her play kitchen stove. Okay one time, but still.


Wonder Twin Sophie. Super power: Barking at super-canine decibels that wake babies.

We Dance.
About a year ago, Brett pulled one of his random quirky little deeds. He rigged up a boom box in our garage to play continuous music--24/7. Not just any music...Country. And we're not even really country folk. But the very fact that this is not really a fits-with-who-we-are kind of thing thrills me. I love that I forget the music is out there. Every time I fling the garage door open at any hour of the day to fetch an extra roll of paper towel, search for duct tape or head out to the car to dig for a lost lipstick, I am pleasantly surprised by the music.



Hey Dad, yeah we stole your boombox. I'm gonna get you a really nice Father's Day gift though.

Rule is: when you hear the music, you have to dance. So now, Nella knows the minute we walk into the garage, it's bustamove time. And Girlfriend obliges.




I love that she knows this. I love that there was once a day when I actually thought that our diagnosis meant my little girl wouldn't do things like this, but she does. She remembers everything, and you cannot walk through the garage with Nella on your hip without stopping to give in to her hand-clapping, head-bouncing little pleas to dance.

Knowing when to dance is an imperative trait I want my children to inherit. And, in case you wondered, the answer to when is it a good time to dance? is...
...anytime you feel like it.





The Two of Them.
Their bond is quiet but sure.




We have begun to talk to Lainey here and there about Nella's needs. It comes up naturally and not really that often, but there have been times when, out of concern for Lainey's feelings, I've wanted her to know why therapists come to play with her little sister.

We don't say much because not much is needed to be said. But I know my girls well. And I know the big sister gets it. I just know.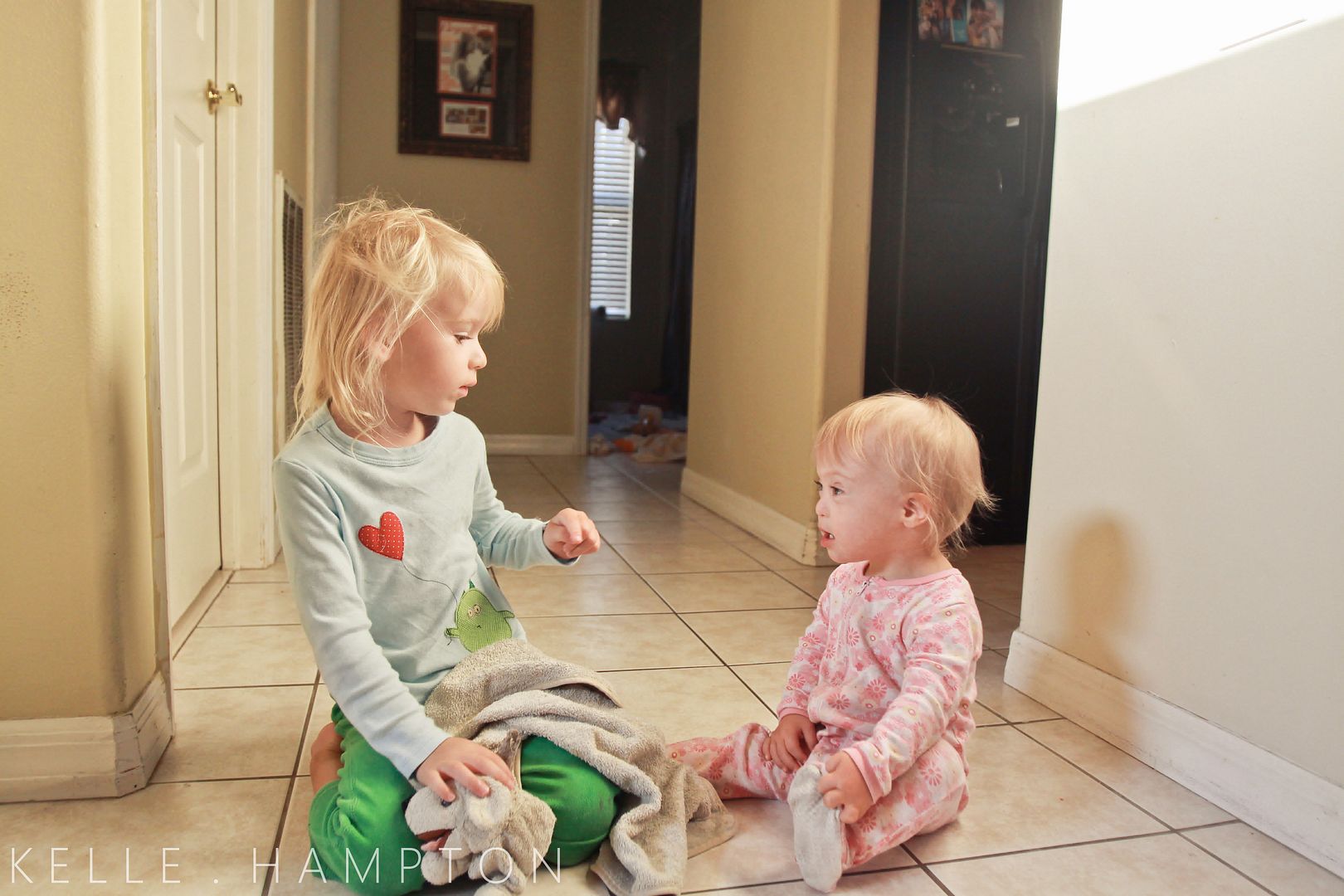 No Explanation Needed.
I had to have them, okay?




Nella Sleeps. Or Not.
Nella's not a good sleeper. She still wakes up in the night and her naps are inconsistent. I can't do the whole let-'em-cry-it-out thing, so I usually nurse and sing and sway until she's out. And I honestly enjoy every second of that time--watching her knead my skin, play with her feet, slow her sucking until she's melted into a heavy little slump in my arms.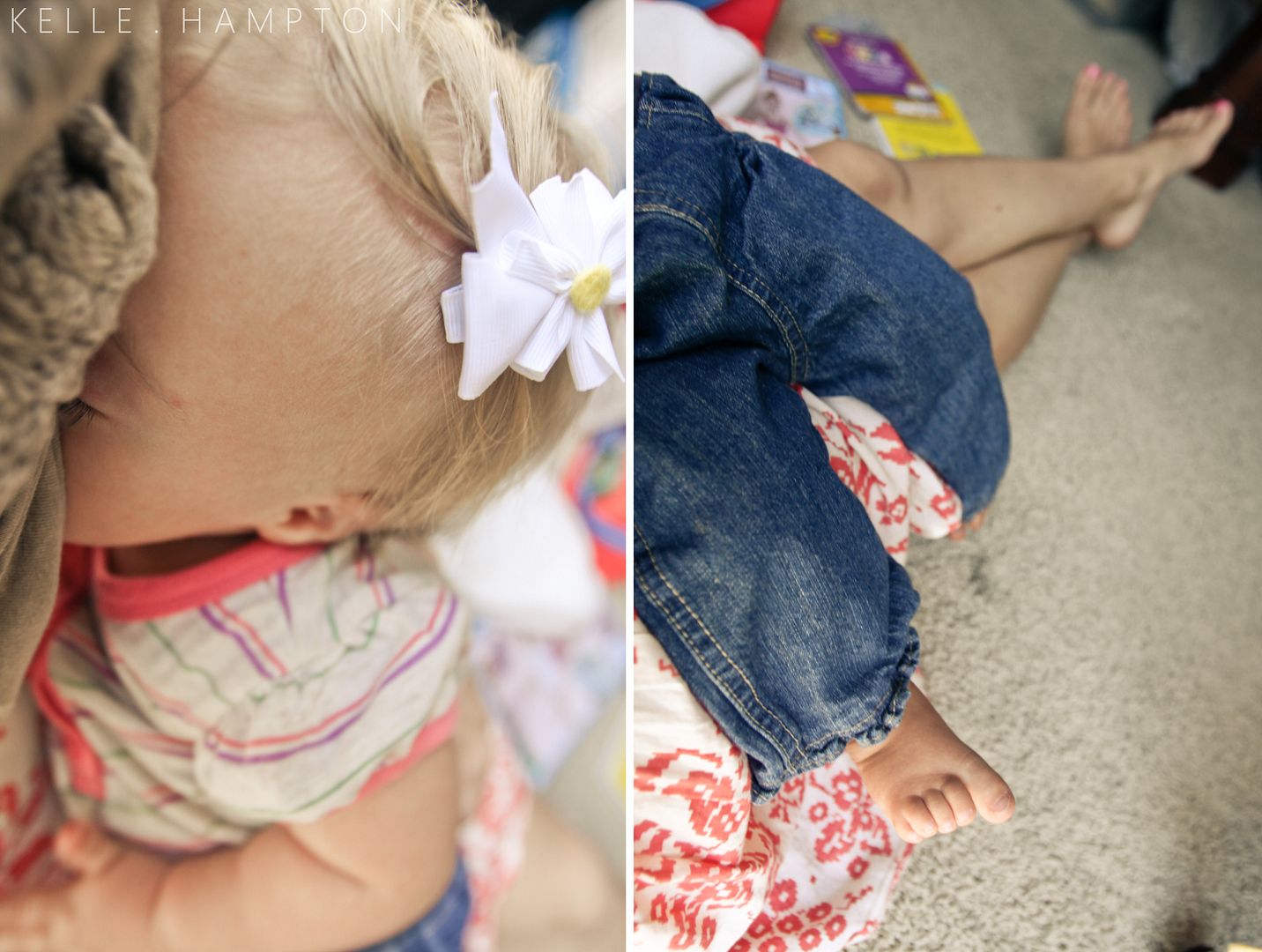 But lately, as still and sleeping as she seems at the end of this whole shtick, the second I carefully and quietly lay her in her crib, she miraculously shoots up and smiles. Today, I finally walked away, hoping she'd put herself back to sleep. After half an hour, I heard nothing. I was certain she'd done it--settled herself into slumber--so much I started planning the moves of my victory dance...until I walked in to confirm and found my quiet girl just like this: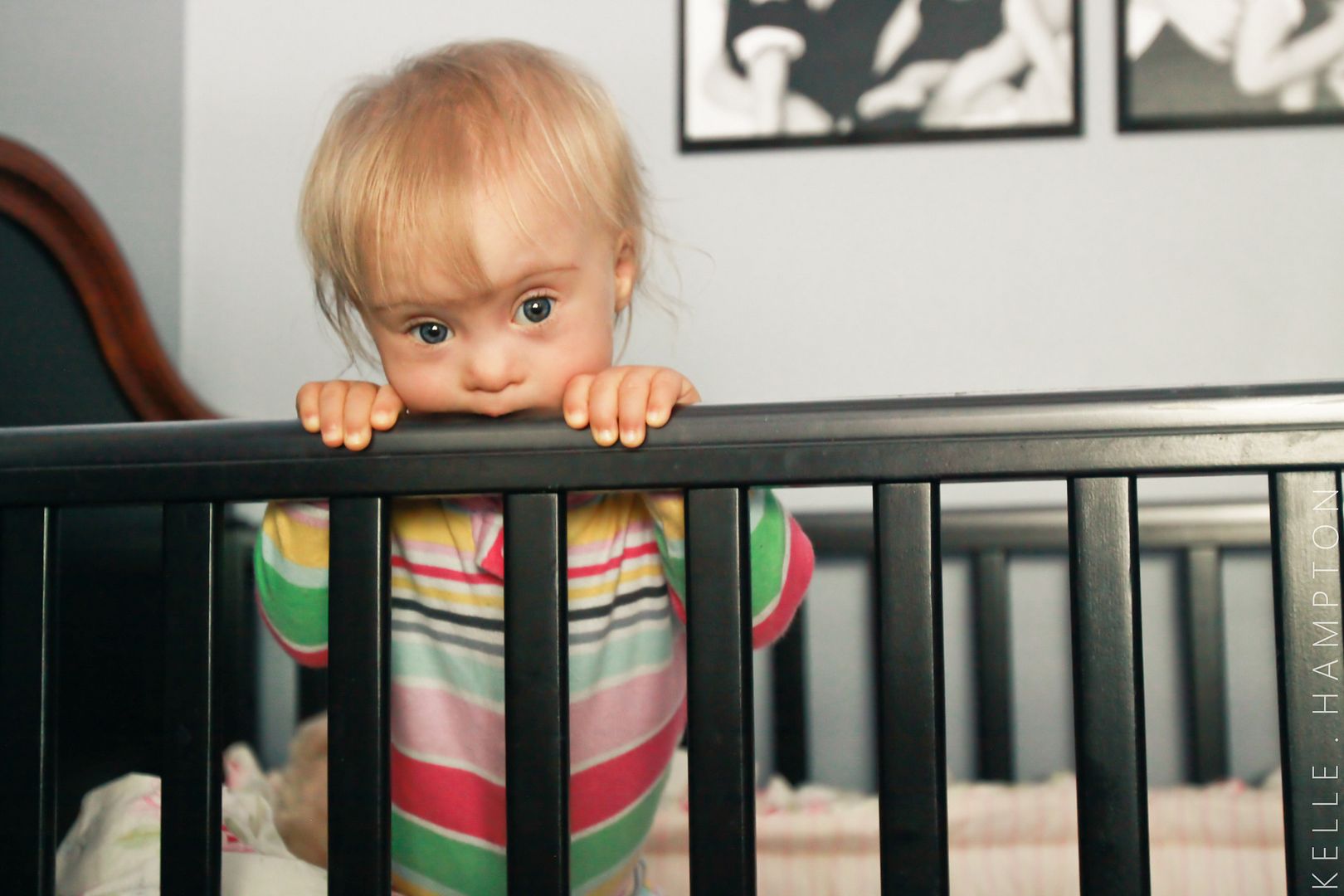 Silent. Awake. Adorable.




Fine Motor.
She holds a piece of chalk like it's her job. And she knows what to do with it. Sister colors the cement, no problem. Lainey taught her.




Little Friends.
Lainey's friend spent the day with us today, and I was delighted with the dynamics of three girls--two that were off and running, one that stayed glued to her mama.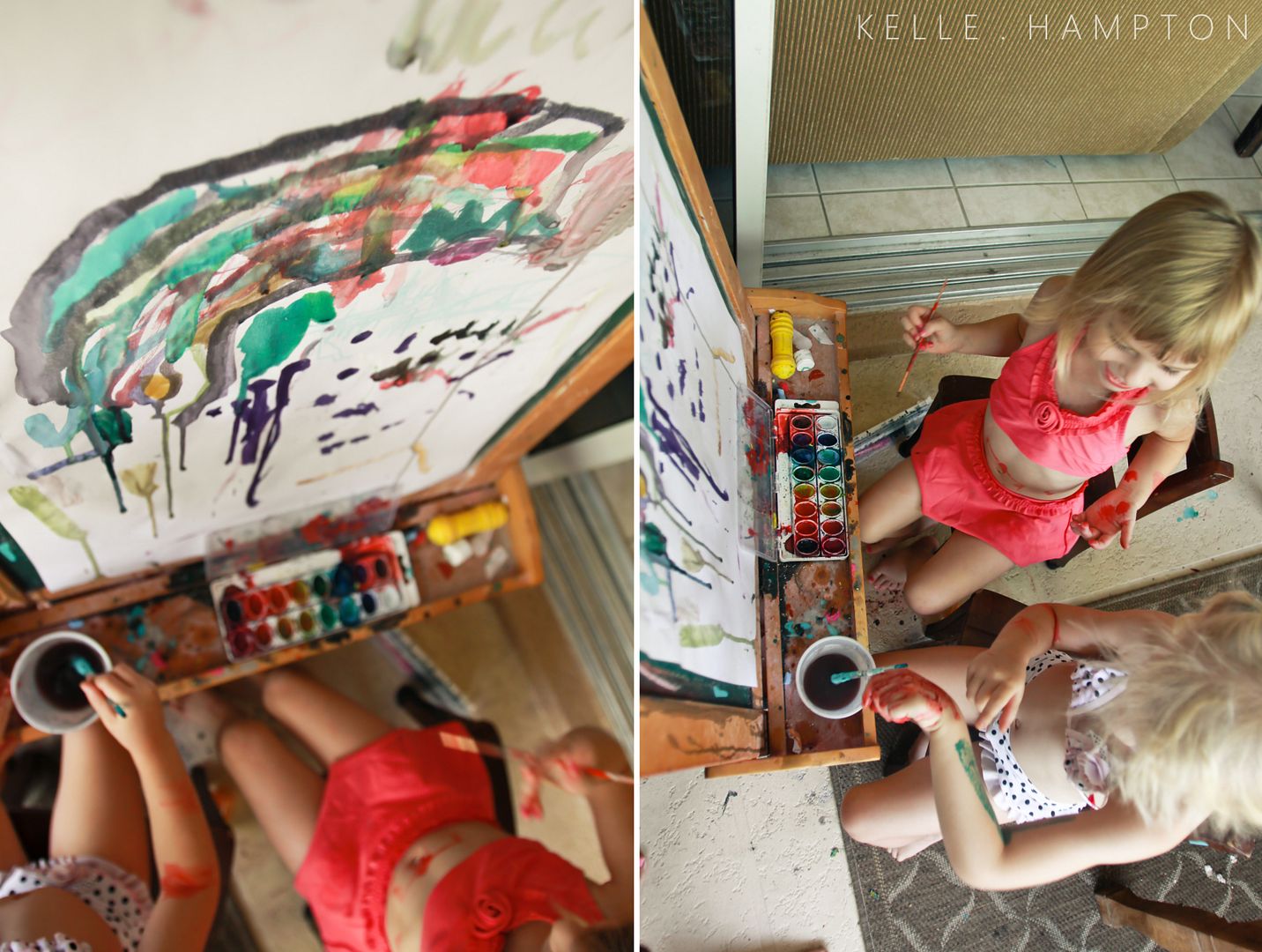 Nella's new favorite--frozen yogurt tubes.

But they all joined forces for lunch in the woods.




Ebay.
Lainey grew out of her old hand-me-down cowboy boots, and she wanted real "cowboots" for her birthday party. I found these leather beauties on Ebay for $12, and I love them. The leather smells rich, feels appropriately worn-in, and there are two holes at the top, perfect for her little fingers to slip into while she pulls them on.




Can't Get Enough of...

...this simple salad Heidi got me turned on to. Arugla, cilantro, half a sqeezed lime and sea salt.





Spring photo from a few weeks ago I never posted:



Dresses for Grandma's wedding next month


Got Yogurt?





Blog Videos
The awesome folks at Babble have put together 5 video segments featuring moms talking about different blogging issues. Today's video, the first of the series, discusses deciding how personal to get...and, for the record, I'm still getting used to Skype.

Check it out HERE.

The week's almost over. Enjoy!