This week, I cooked my first real dinner since Nella's been born. It's actually been that long that we've had meals brought in or Brett has taken over the kitchen. And, for a minute, I thought I forgot how to cook. But, it wasn't long after pulling up my sleeves and digging in to peel onions and potatoes, pull thick cabbage leaves apart and drop them into a simmering pot of salty corned beef that mulled with the promise of a tasty feast soon to come that I felt it all come back...the delight of working in my lively kitchen. And, thanks to the beautiful stories of yours coming in on life in the kitchen and elsewhere, I think I enjoyed it even more.

And, speaking of firsts, I will leave the "newborn" for the first extended period of time tonight. I have a rehearsal dinner to photograph and other than quick trips to the grocery store here and there, she hasn't been without her mama. Or milk. We'll see how that goes, but I will say, I was reminded once again today as I hooked up the mess of tubes and plastic contraptions, just how strange and unnatural the process of pumping is, and there's a reason this process occurs in barns. Because doing it standing over a counter in the middle of a kitchen while your husband is washing dishes is just weird. Which explains why my cousin swears the whirring rhythm of a breast pump sounds like it's saying...crazy, crazy, crazy, crazy.

I had a quick shoot earlier this week at our house and Brandyn came running out to tell me Nella was crying and Dad was trying everything he could to keep her quiet to no avail. Ten minutes later, I walked in to find him in the kitchen with Nella swaddled in one arm and a plastic cup full of pennies in the other. And he was shaking the bejesus out of the cup so that all you could hear was coins going bananas and I can't figure out if she was soothed into her trance or scared out of her mind. Either way, Brett swears it works, so tonight I am leaving him with brief feeding instructions, a bottle full of well-earned milk, and a plastic cup full of pennies. All should go just fine.

Here's to hoping because Brett has been looking forward all week to his night alone with the girls.




I walked by the swing the other day and saw a little elephant toy had been rigged up to hang in view and, before I could ask, Brett explained, "I did it. She likes it." I smiled and passed it off as one of those cute little daddy things Brett convinces himself is true, but then later I saw this...




...so, I guess he's right.

She's also discovered that her little fingers taste delicious and watching her tediously look for them and score on their arrival to her little mouth for some good sucking is like watching a good movie.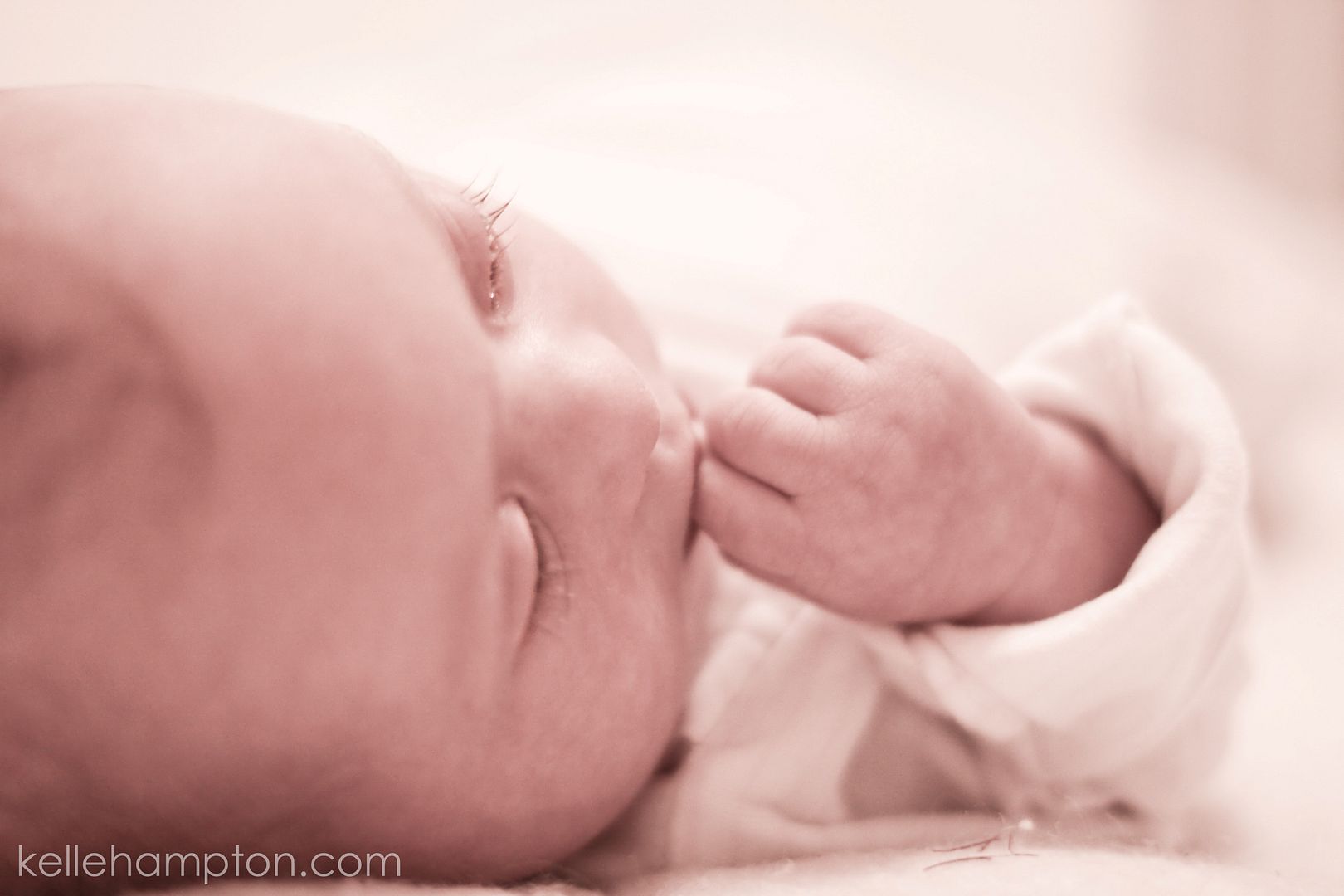 ...and hello sweet little feet. If I had a penny for every precious picture we've taken of ripe little toes, well we'd be stinkin' rich.




We now interrupt this post for our fairy party update.
No-sew tutus are in the works and are super easy to make. Basically, you use waist elastic and measure 1 inch smaller than child's waist, secure with safety pin (although I did sew mine), loop around chair and tie strips of tulle into knots around perimeter.




Hot glue flower and add inexpensive Target t-shirt painted with a big "3" and sewed with ribbon and buttons and...Voila...my girl's birthday digs.




She talks about her party every single day amid library book reading, coloring and...running naked in our front yard. Our poor neighbors.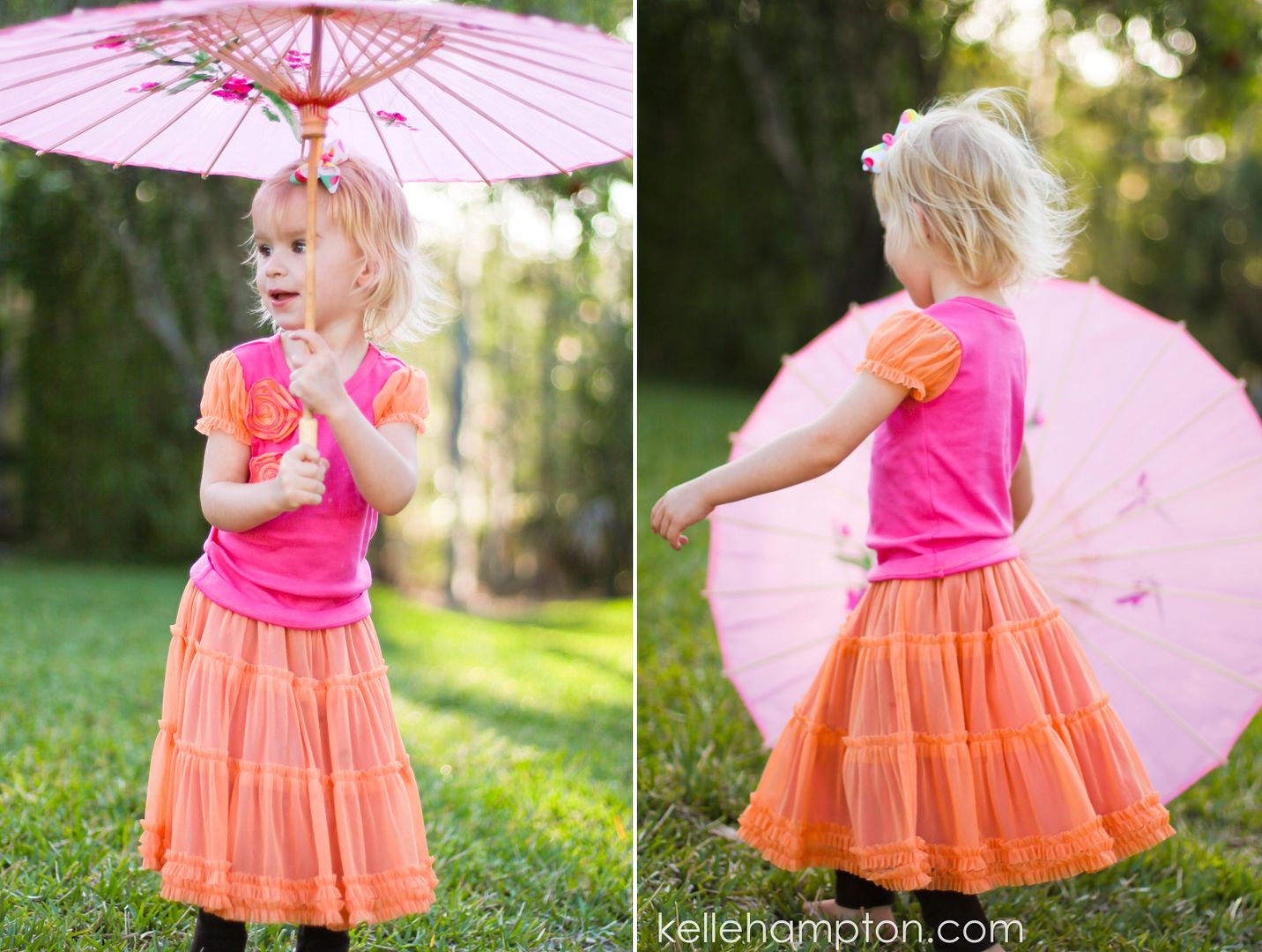 With cousins around, she's also enjoyed the trundle bed being pulled out because she can safely jump from one bed to the other.




She loves her bedroom.

Despite the parade of nasty colds going around in our home right now, we are enjoying our Friday and looking forward to a weekend of more family in town and maybe...just maybe...an Isle of Capri reunion. Be still my heart.

You know what I'm loving right now? I'm loving my girl's snuggles and the way Lainey says, "'Top it, Baby 'ella" when the little one grabs her hair.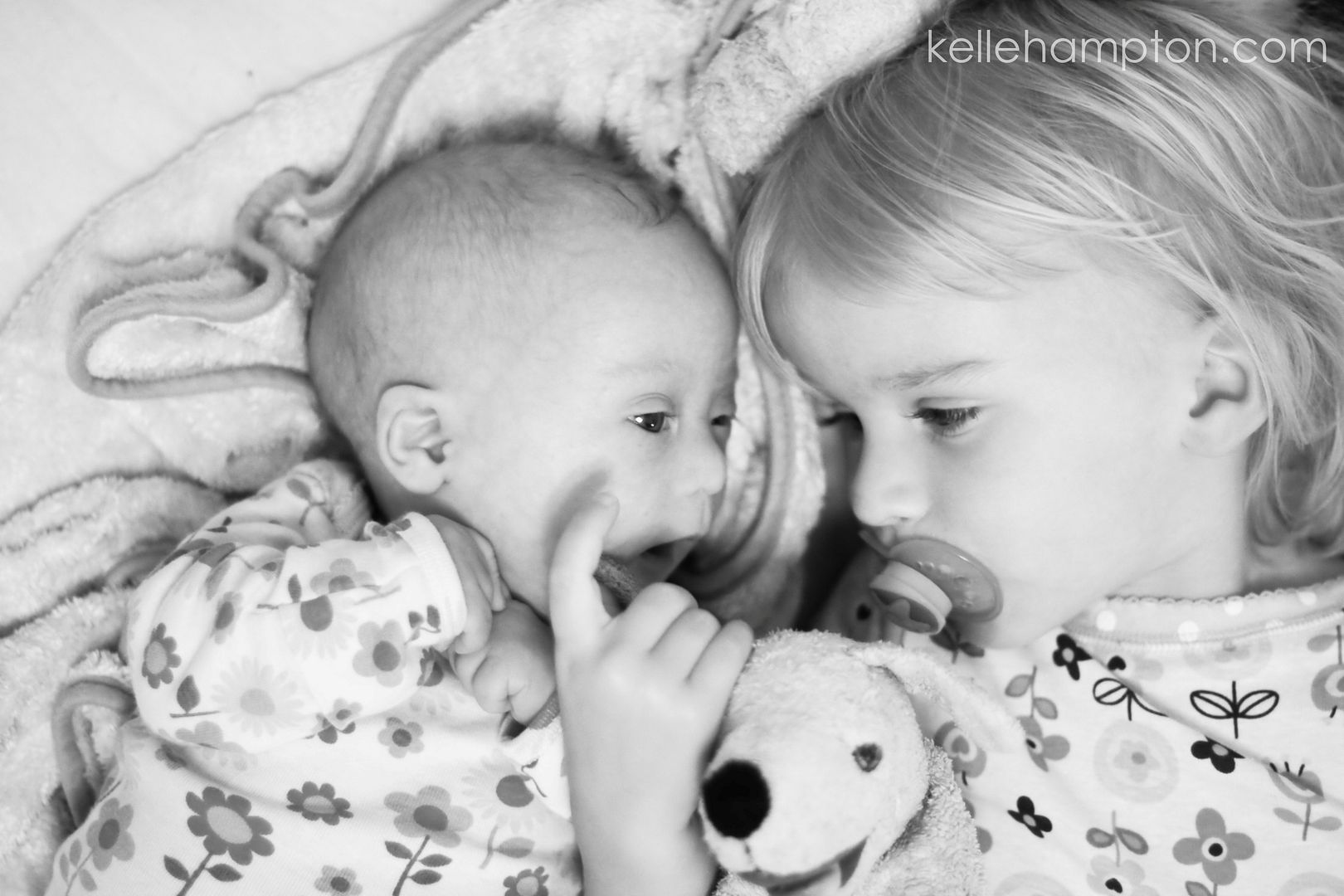 Or when they have foot wars, even though Lainey wins every time because poor Nella doesn't know what a foot war is and I guess if you don't know, according to Lainey, you lose automatically.




I don't get sad anymore thinking about their relationship. I get excited. I know I will have sad days, but I can't believe how long it's been since I've been scared or sad. I've just been enjoying life and her and us so much lately. And I think, when it comes down to all there is to think about for the future...all there is to be scared of, I arrive back to the place of this: at the end of our lives, when all is said and done, what we will look back on as the most important, most defining, most beautiful moments in our life? They won't have anything to do with the things Nella may not be able to do. It won't be milestones or college or jobs or success. It will be herds of bodies in the kitchen on Christmas Eve preparing breakfast for the next morning, vacations holding hands, scouring shells on the beach, laughing around the dinner table for evening meals, kayaking to the accompaniment of live reggae on Isle of Capri Sundays...and that? Nella will have every bit of that. What a comfort that is.




And finally, more lively places in your home. Oh, I smile reading them. What lovely homes you have.

Jenna loves her daughter's room where life evolves (and sweet Lana has our magic chromosome too):
Life abounds in Lana's room. It's where giggles and imaginations explode. It's where Lana knows she's the queen and where everyone encourages that. It's where we know we did everything we could to show Lana just how much we love her and all that she has blessed us with... every night we gather as a family and allow jumping on the bed just before we nestle in for story and book time. And this is where our family is living life to the fullest.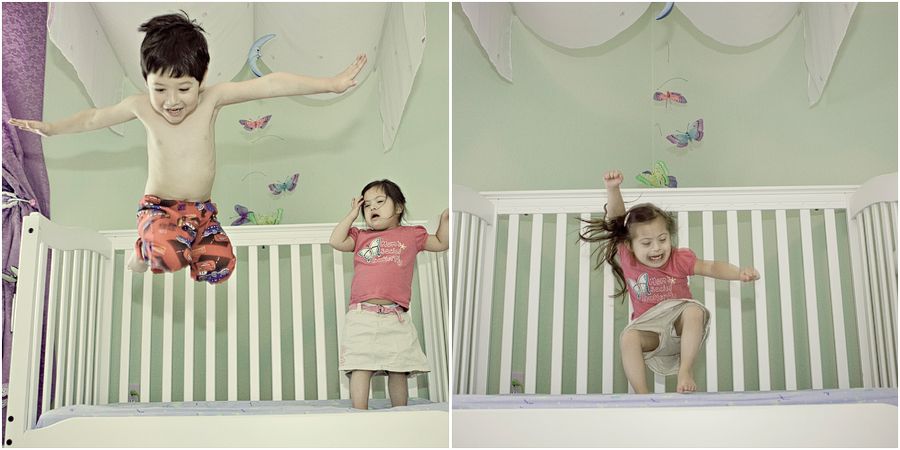 Laurie's lively place is her bedroom:
There are so many rooms in our house that have a warm beautiful feeling to them, but our bedroom would have to be top of the list. Here is where a lot of love, joy, laughter, and cuddling goes on! In the morning, while I nurse my baby girl, the boys huddle close to get a snuggle in under the covers, and watch Sesame Street on Youtube. ...it's a precious room, one full of awesome memories, and one where new ones are made each day.



Kristy loves her couch...
This is our lively place. This couch is where we hug after my daughter comes home from school as we chat about her day; where I "tittle" my son's feet - at his insistence - while we watch the flames flicker in the fireplace; where we read story after bed-time story; where we take Sunday afternoon naps; and lay under cozy blankets when sick; where we just CHILL...while the world around us swirls and pulsates with its steady hum...here, we are at peace.
Daniele
beautifully describes her much-loved kitchen table:
A few of many flashes of memories for me at that table: Being alone, ripping open and reading letters over and over from my husband when he was deployed in Iraq, my tears falling down to the glass and wiping them away with my shirt sleeve...late nights grading papers and writing lesson plans when I was student teaching and also when I was finally a "real" teacher... Putting my first daughter into the high chair strapped on to one of the seats, so beyond excited to feed her her first meal of rice cereal....Flash forward to today---We finally live in the home we'll be in for a long time. And it is like our beloved little table was made for this house and our little eat-in kitchen area. It fit perfectly. When you sit there now, you feel like you're outside in the backyard, in the kitchen, and in the living room next to the fireplace all at once.
And finally,
Rachel
, portrays their lively entryway with her words...
I enclosed this picture from our current place, because this tiny entryway is where it all goes down daily. My daughter loves getting outside, the baby loves to move the door and my other son races his cars on the rug. AND it's the wonderful threshold that we watched my husband walk through after he finished 3 months of training away from us. This photo was taken when we first moved into this house after a cross country trip, 2 weeks before my husband came home.
I don't ever want this contest to end! I'm seeing a best-seller coffee table book full of the lovely places in a home!
Thank you to all who have sent their beautiful, inspiring photos and stories! More to come.
Have a beautiful weekend!
~k