rainy days must be magic.




i'm quite certain of it, as when the rain starts to fall, these little things begin to happen here. little moments. productivity. stopping and seeing the moment for more than it really is.

it was another one of these days. and for that to happen twice in such little time...well, the planets must be aligned quite spectacularly tonight. that and brett is gone this week which always seems to ignite me to do more and be more to make up for his absence.

and while sometimes these posts happen to arrange themselves with some lovely sort of theme...tonight, it's just pure stream-of-consciousness. a lot of pictures from a camera that has somehow created some beautiful images for me lately. a girl whose soul-loveliness has just touched me in so many ways as we enjoy these last months of just her and i. creativity. and the random little bits of life that seem to sew it all together. yes, it shall be one of those posts.

beginning with a little creativity and a $10 walmart bag we turned into a bye-bye bag. a sort of mary poppinsish bag full of never-ending surprises to entertain her while we are out. and i'm not sure why we do this for our kids...because when we were little and went to a restaurant, our parents packed squat for us and yet we were happy to play rock-paper-scissors or contentedly stack sugar packets into towers while we waited for our food. and we were just fine. however, the contents of this bag have proved to be saviors while out not to mention the process of stamping her little painted hands for the making of it was all too much fun. and we love suggestions for good bye-bye bag contents. for now, it's play-dough and stickers, crayons, chalkboard, coloring books and little dolls with clothes.




and unlike her mother, she puts everything back right where it goes, carefully zipping each bag closed before taking out another.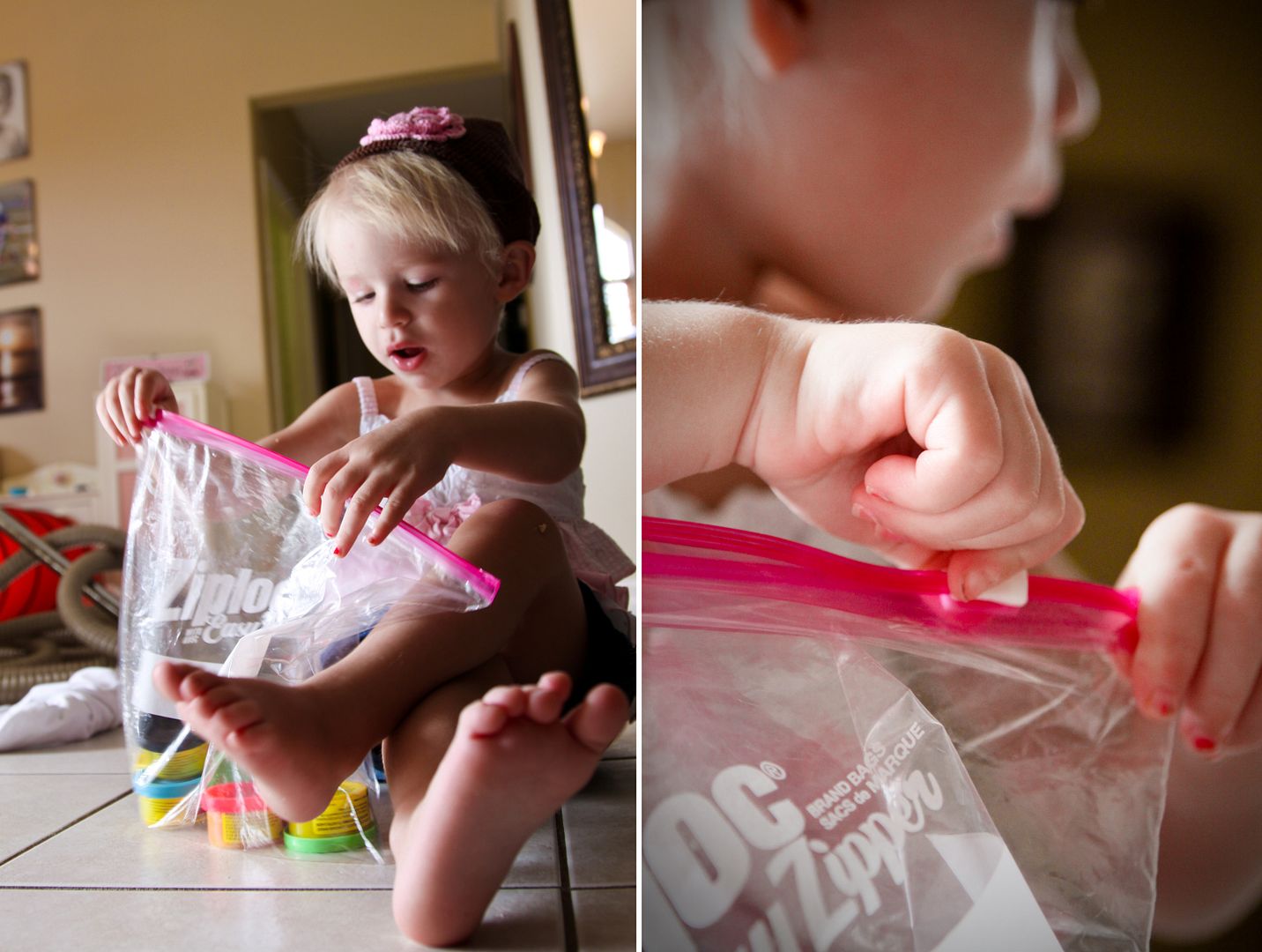 and one creative leads to another. so, after procrastinating a bit on hauling out the paint shirt, water cups and all the clean-up gear for her little pleas of paint, mama, i gave in to her sweet creative soul this morning as we painted vivid swirls on crisp white paper and she clumsily attempted (with help) to paint over my dashed-line guides to spell out the name i love...and she points to it and says...yaynee.



i could have watched her all day. her concentration and the way she humbly tried to hide her crooked satisfied smile. how careful she was to not make a mess...to switch colors, dipping her brush in water between each. and then hours later when brandyn came home from school, the way she grabbed his hand, ran him to see her masterpiece all stretched and dried on the easel. look, bramban.




...and while i thought i cleaned up all the paint and put it safely away from mischievous hands, two hours later i walked into the bathroom, flipped the lid of her potty and found...well...lainey's technicolor dream poop. her little business nicely smothered in puddles of red, orange and purple paint. i'd have taken a picture, but i spared you.

we squeezed in a noon photo shoot of this sweet baby, ella...




and i let little b stay up from a nap to help as she is now accustomed to tagging along on home shoots and does so well to stay out of the way, tag two steps behind me, make the babies smile...and even holds her own little camera sometimes. so proud of her...and she loves to be included in my "work."

this little one worked the lense oh so splendidly.




(can't decide on color or antique for this one!)





then came the really good...the hardest rain...and the most precious moments of my day.
we escaped, her and i, to our little ice cream treasure where i captured, in the downpour, some of my most favorite pictures ever of her. believe it or not, these were unposed. just pure lainey doin' her thing.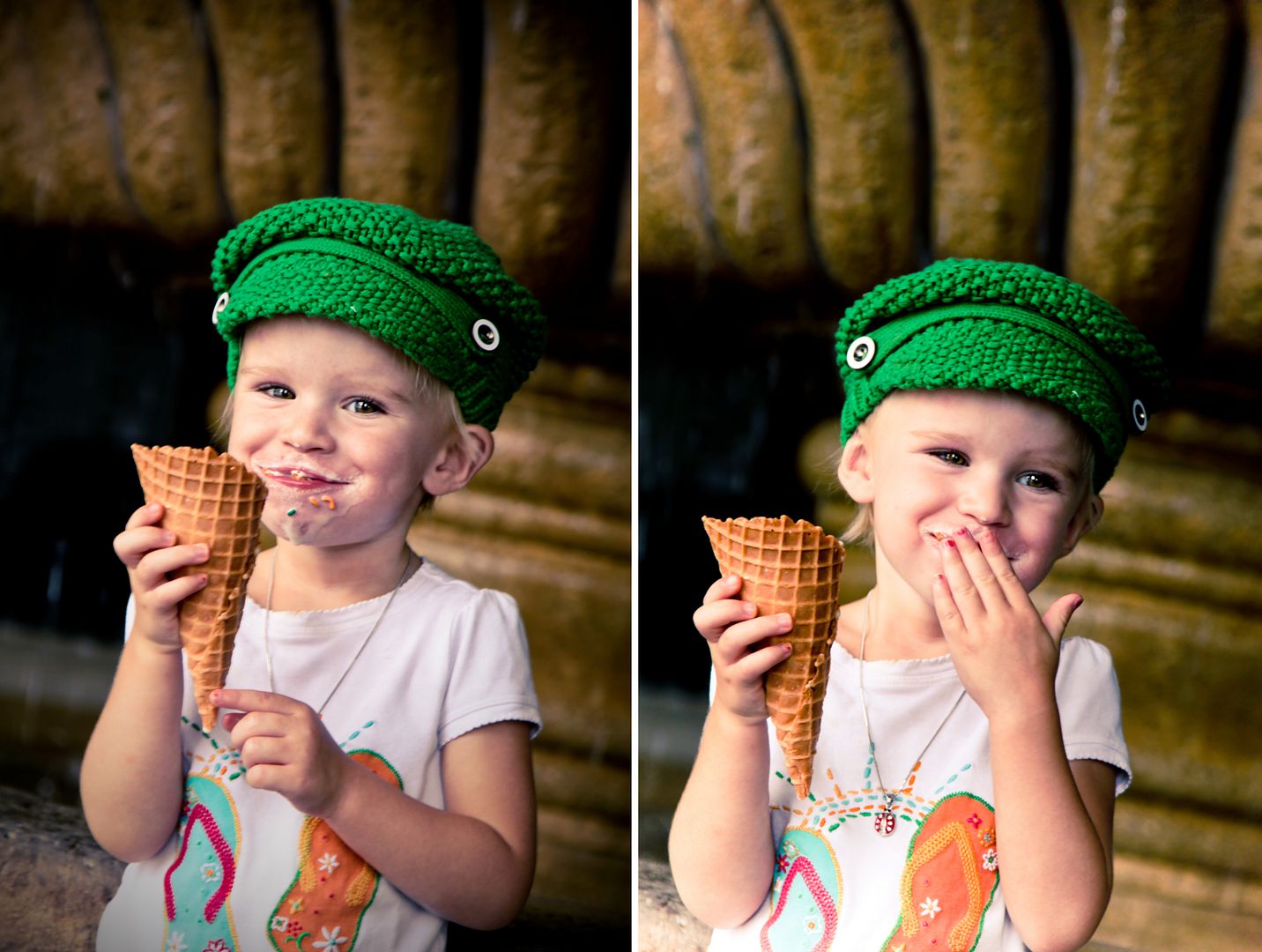 the rain was just cascading in torrents and we had no umbrella (which i'm liking because we always have more fun without one)...but we did have a beach towel...so i let her play in the rain with her towel. and i don't know who was more thrilled--her, to unleash all this toddler into puddles that begged to be stomped in, rain that pleaded to be danced in--or this mama who watched it all quietly, contentedly, thankfully...behind her lense. i'm sure it was me.




we stayed stuck, banished by the rain to our quaint little plaza, so we meandered down the line of little shops past our ice cream treasure into our favorite kids boutique where, for fun, we fancied the likes of three little grandmas inside with lainey's parade out of the dressing room, trying on a hodge-podge pile of things she pulled off shelves she could reach.


and finally, home...where it continued to rain, dimming the house into a cozy place for naps. she cuddled into her big girl bed without the slightest of fuss and fell fast asleep in minutes. i steeped a pot of tea, lit a candle and began to look back at our pictures.

and it hit me for the first time. the fact that, although i am so already in love with our new little bean and loving the idea of her arrival being such a gift for lainey...it will mean the end of so many days of undivided attention for her.




i cried--sipping my tea in the rain--looking at pictures of painting and ice cream and a morning well-spent...knowing that these last months of brewing anticipation and the crescendo to that beautiful day also represents a slowly closing window to what we have...what she has. how her life will change...and she doesn't even know. i am so happy for her...and yet today, admitedly, a bit sad as well. it will be good for her...and good for us, and i know we will handle it beautifully and everything will fall perfectly into place...because we love and we love good. but, i want to give everything to both of them and know expectations will have to be altered. i will struggle to document every beautiful bit of life for both...to scribble lovelies in baby books...to take pictures of accomplishments as simple as little fingers closing ziplock bags...to bake and write and read, all the while keeping a house and loving a husband and maintaining the little hollows of self-fulfilment a mama must keep to love bigger and better. a change i am embracing but know will bring new challenges.

for now...we love.




'cuz we know how to do that.
and the rest will fall into place.

(and thank you for your comments as of late. there are a couple of you who are link-less in blogworld that have said some of the sweetest things and i wanted to send back a message but can't. thank you always for kind words...and while i don't ever want to be a 'comment-digger' i am not too proud to admit, finding a comment in my e-mail box always makes me smile. because it's a little bit of love. and who doesn't love love? i really do try and get back to as many of you as possible or visit your blogs from time to time. so, thank you, sweet friends.)