so, this is what the playroom looks like.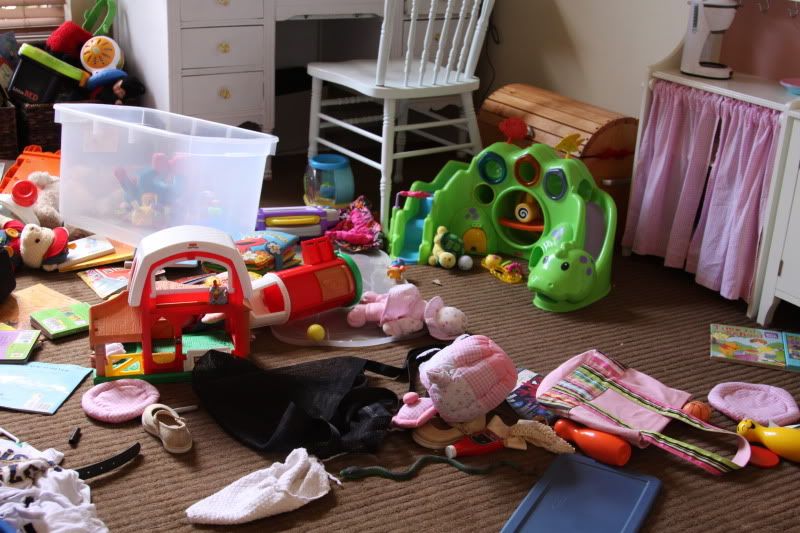 and you can't miss it when you walk in the front door...sort of a welcome to anyone who happens to stop by. ...and while i have quite exhausted myself on the justifications i offer to those who walk in the front door to, say, pick up pictures, drop off groceries, offer help, etc., the whole 'modified bedrest' is starting to sound like a big fat excuse to be lazy. so, i'm thinking rather a nice painted sign on the wall that says something like...this is our life. we like it. deal with it.

instead of cleaning, we nest and nuzzle. and bake.
today, she learned how to say "cheesecake," or as she interprets, keycay.
and it has since been said, oh a trillion times.

mini cheesecakes: the recipe is easy, the results divine. and because they're little, they look quite precious arranged on a cake platter for any party. and if you're not having a party, maybe make them when your house is a mess, your husband's gone, you've watched far too many episodes of gilmore girls, and you have nothing better to do.




they're my mama's recipe...and you can make them too.




and i know halloween is two months away and counting, but we look forward to it big time. not just the costumes but the way our neighborhood becomes sorta like knott's landing...but instead of murder, drug smuggling and criminal investigations, it's neighbors passing hot cider and endless trails of kids circling happy luminaire-lit streets. but the costume part is a major deal for me...perhaps because the old church i went to for awhile when i was little had us thinking halloween was bad and dressing up would surely send us to the depths of hell...so all that pent-up creativity and a few years of costume-less halloweens has snowballed me into costume frenzy, and having a kid makes it even better.

with all that said...sneeky peeky on the girl's costume this year...




i've been dying for stride rite saddle shoes for her forever...just for everyday...and when we found them on e-bay for $12 ($45 brand new!), we figured we'd kill two birds with one stone and knock 'em out for halloween too. of course, there's more...but you just have to wait 'till halloween for that. oh, how i love october (ah ha ha ha...that's count dracula's laugh).

and speakin' of halloween...want cards of your little honey in their rockin' costume to pass out to family and friends? want to pass some autumn wishes on with your little all fall-ed up in browns and golds? now's your time...fall minishoots this september! book now...or forever hold your peace!
there'll be cider and donuts and haybales...oh my!




more fall-y pictures to come...the weather was not cooperating for what i had in mind. my poor little girl who has to do all my advertising (but tell me the tam-tam hat and the toggle-button sweater aren't to die for?)

p.s. i officially feel like we are on a deserted island what with the house being so quiet for four days now and trying to refrain from going out and overdoing it. i now speak fluent baby. and dog.

and the song...get it? september? for the mini shoot? feeling oh-so-literal tonight. do you think gettin' up and dancin' to this song in my pajamas lies somewhere in the lines of 'modified bedrest'? what if i only shake it a little bit? that's the modified part.

...more love a'comin. ~k