so, daddy came home from work today with a coy smile on his face and his hands all curled behind his back hiding a present...not for me. nope--for the other girl in his life.
"i gots a pwesent for Binks," he says.
at which point "Binks" peeks around the corner with her daddy's-home-from-work grin and walks (yes, walks...still can't believe it) over to him, reaching.

...and what was behind daddy's back, you ask?




why, carbs & sugar, of course...the key to a girl's heart.

so, Binks cautiously peers into the "pwesent" bag...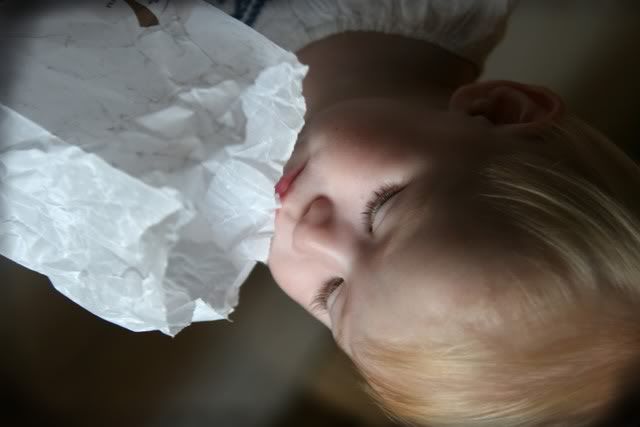 and then daddy gives her a widdle taste...




and then, as all good daddies who are swayed by their cute little daughters do...he caved...and gave her the whole thing...




...and the rest was history.





and in less sugary happenings today, latte and lainey had a show-down.
and it went like this:

lainey likes to hook latte's leash up and attempt to 'walk' her, but latte's on to the whole you're-just-a-baby-and-i-know-you're-just-gunna-drag-me-around thing so she, being the smart dog that she is, puts the breaks on and refuses to move. usually, lainey gets the point but today she was all if-i-say-you're-gunna-walk-you're-gunna-walk.
so they had a show-down in the drive way. ...and their faces said it all.

lainey: 'you're gunna walk. and you're gunna like it.'




latte: 'i'll walk when hell freezes over."




...and this went on for quite some time, both just as stubborn as ever.





ten minutes later, here's how we stood:




so, the refs intervened and brett distracted lainey while i shooed latte inside. so neither won...or maybe they both did.

funny kid. funny dog.

and last but not least...cheap toy idea (and evidence #4064 that babies like free crap better than expensive toys)
wanna reuse baby food jars? cut slit in old container and give your kid a stack of baby jar lids to drop in like coins. we did this forever today as we counted..."one...two...three..." big smiles on her part followed by jangling the container, dumping them out and starting over. and some major coordination skills too...fun to watch her figure out how to turn the lid so it would fit. so you're being green and thrifty all in one. genius, huh? ...and you thought i was a real blonde.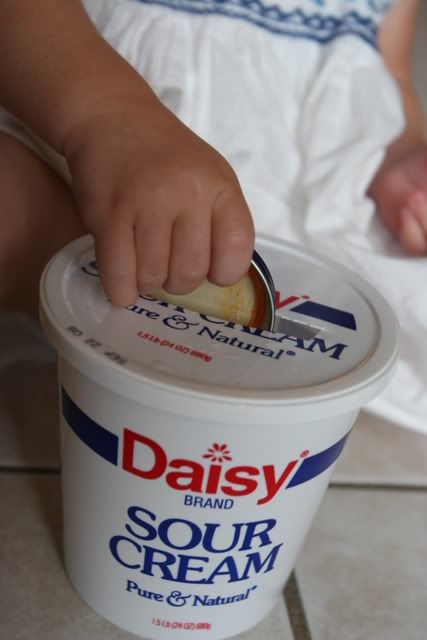 ...enjoying the random things. ~k

...oh wait, here's a cute widdle footie i couldn't leave out: