Sorry for the radio silence last week. Life got busy, Brett was out of town for a bit and every time I sat down to write a post, some pressing matter called, "Mommmmmm!"

Last weekend, we took a quick trip to Chicago to support the work of my friend Katie's campaign, Changing the Face of Beauty. I met Katie in San Diego last year when she and her daughter Grace came to Everybody Plays with a big "Thank you" to Infantino and Step 2 for representing true beauty with all its faces in their advertising. Katie's extremely passionate about the media representing all the different forms of beautiful–so much that she started Changing the Face of Beauty after her daughter Grace was born with Down syndrome, and has since worked tirelessly to encourage retailers and big companies to include people of all abilities in their ads. Considering 20% of American families with children have some kind of special need represented in their home, this is a great way for companies to say, simply, "We see you."

Let me tell you how I came to understand how that feels. Without knowing I needed it, I saw a Pampers commercial the year after Nella was born. "Every baby is a little miracle" was its tagline, and in sixty seconds, Pampers managed to give a virtual hug to as many unique families as it is possible to squeeze into a one-minute slot. Single moms, biracial couples, adoptive families, in Vitro stories, you name it. I was one year into the special needs game and doing just fine, thank you—no need for special commercials or acknowledgment from ads, I thought—and then I watched that commercial. At the 22 second mark, it came: "Hi. We see you. We know you're there." An almond-eyed baby, cradled over her father's shoulder as he kissed her cheek and Pampers' ultimate message at the end of the commercial: "Every baby is a little miracle. To celebrate, support and protect." Watch it. You'll feel it too.

I lost it. Like a stodgy old aunt who doesn't do hugs but melts and loves it when someone doesn't care and squeezes her anyway, I put my guard down and accepted that hug. I cried, I rewound, I hit play and play again, I texted the link to my family and posted that baby on Facebook where other parents of all the unique special babies represented in it said, "Thank you, Pampers. You saw us too." To be seen is the most primal human need, and to see someone is the most precious gift you can give. It took half a second of a commercial for Pampers to see a whole lot of families out there, and in doing so they made a giant family of loyal friends.

It's not just about being seen. More important, it's about changing the standard of beauty to what it really means so that all of our children are presented with a realistic representation of the amazing human body and its diversified forms of beauty. Slowly, the media has begun to come around to show that beauty is multi-faceted and comes in different hues and sizes and ages and abilities, and a few companies have done an incredible job to illustrate this in their advertising (yay Dove!). What that means for my children is that the media-saturated world, by which they can't help but be subconsciously influenced, broadens the definition of beautiful and perfect and acceptable so that they don't judge themselves or anyone around them if they don't meet a size 2/straight white teeth/flawless hair/porcelain skin/All A's standard.




With such a significantly present force in our society, the media has the power to desensitize stereotypes and normalize what is--frankly--already normal, for people who might need help seeing that so that one day, twenty years from now, when my daughter walks into an office to apply for a job, "Sure, I'll give you an interview" might be a little easier for someone to say. Or "Do you want to play with us?" effortlessly rolls off some kid's tongue on the playground. Because Down syndrome, along with a lot of other beautifuls, has been represented in the world around them: This is normal. This is beautiful.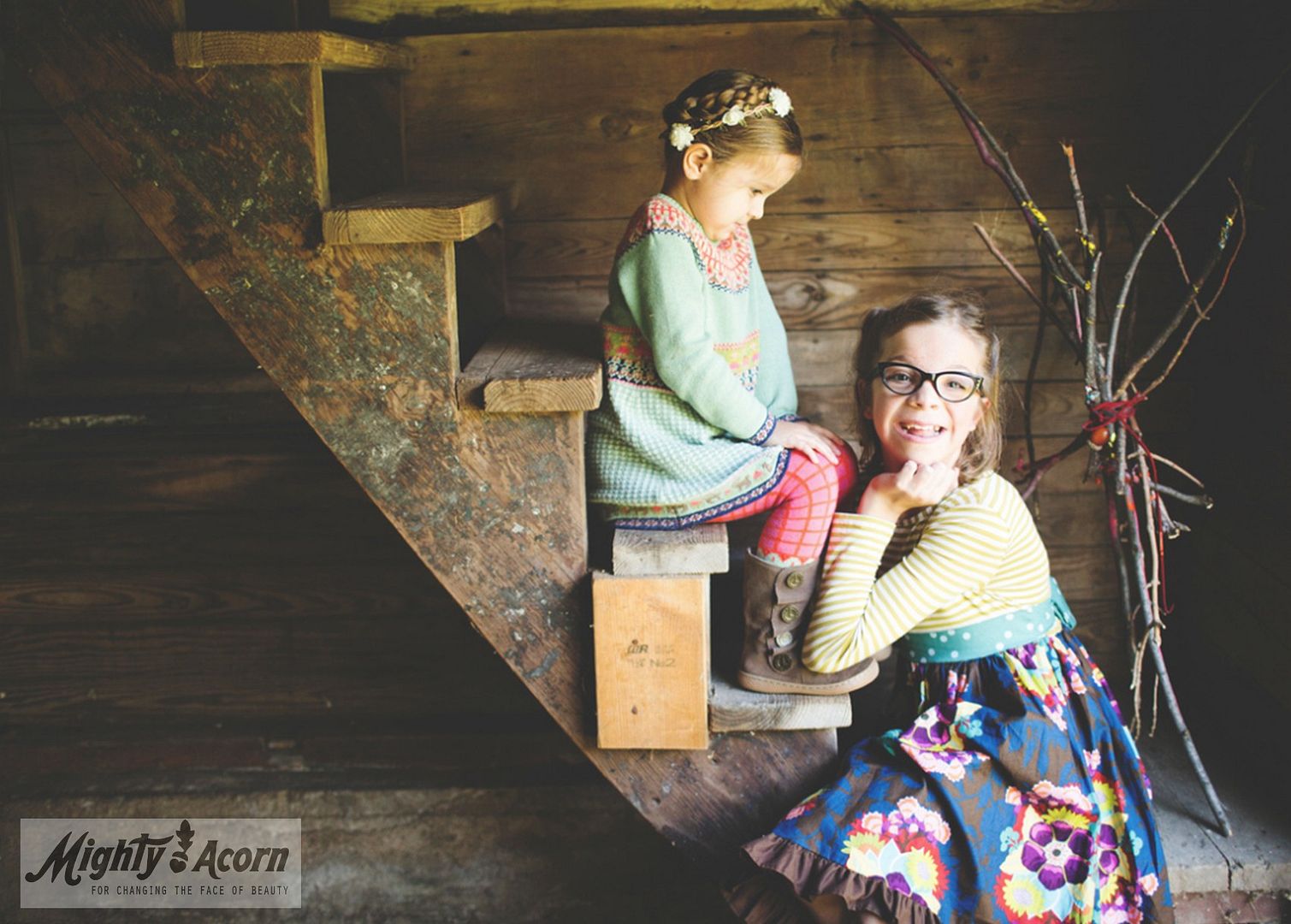 Last week, it was pretty special sharing the efforts of some passionate moms and businesses with my children and to watch how things are changing, slowly but surely, to reflect more beauty, more love and a more realistic representation of people and the wonderful things that make them unique.





You--as a mom, as a dad, as a grandma or grandpa, as a business owner, as an employee, as a creative, as a consumer (ahem, that means all of you)--have a voice in the advertising world. Speak up!

Thank you so much to Changing the Face of Beauty and to The Mighty Acorn Foundation for making this all happen. You're good at seeing people.


All of the clothing and shoes from this shoot will be up for auction on November 1 with proceeds benefiting The Mighty Acorn Foundation and Gigi's Playhouse of Oak Forest (I'll remind readers when it's up if you're interested in purchasing). The companies who participated in this shoot will be provided look books featuring inclusion in advertising to help spread the word at trade shows and to their consumers.

And this one's going in a frame. (Thank you, Katie.)