This post is sponsored by Blue Apron.

Here's the thing about meals in our house—I really do like to cook. I like the ritual of cooking and the senses it involves—the sounds of knife to cutting board, water boiling, vegetables sizzling; the bright red of a ripe tomato, the crisp green of fresh snap peas; wafting scents of basil and rosemary, garlic and onion. I like when cooking involves the entire family—kids standing on chairs, reaching to help; Brett and I sipping a little wine, discussing our day while we stir. It's how I want our kitchen to look at meal time, but too often I'm flinging together a hodge podge of ingredients to just make do because I failed to conquer Phase 1 and 2 of meal prep—deciding what to cook and having the ingredients on hand.

So when I discovered Blue Apron, I was all YES PLEASE. This has our family's name all over it. We still get to chop and simmer and enjoy the kitchen rituals of meal prep, but Blue Apron does the thinking and the shopping for us. All the fresh ingredients for chef-designed recipes are sent to our home in a refrigerated box along with easy-to-follow photo instructions for preparation. All we have to do is make it and eat it.




My favorite thing about Blue Apron is that we receive the exact proportions of everything we need so that there's no waste. And by everything, I mean EVERYthing—spices, condiments, a few tablespoons of this and that—it's all there, perfectly measured, no trips to the grocery store. And all the amazing things that I never knew I wanted to make? Well, now I know.




Like shrimp summer rolls with spicy peanut sauce. I had something similar from a food truck in New York City in April and have been dreaming about them ever since. These arrived in our Blue Apron meal box last week and were fresh and delicious and far easier to make than I would have imagined.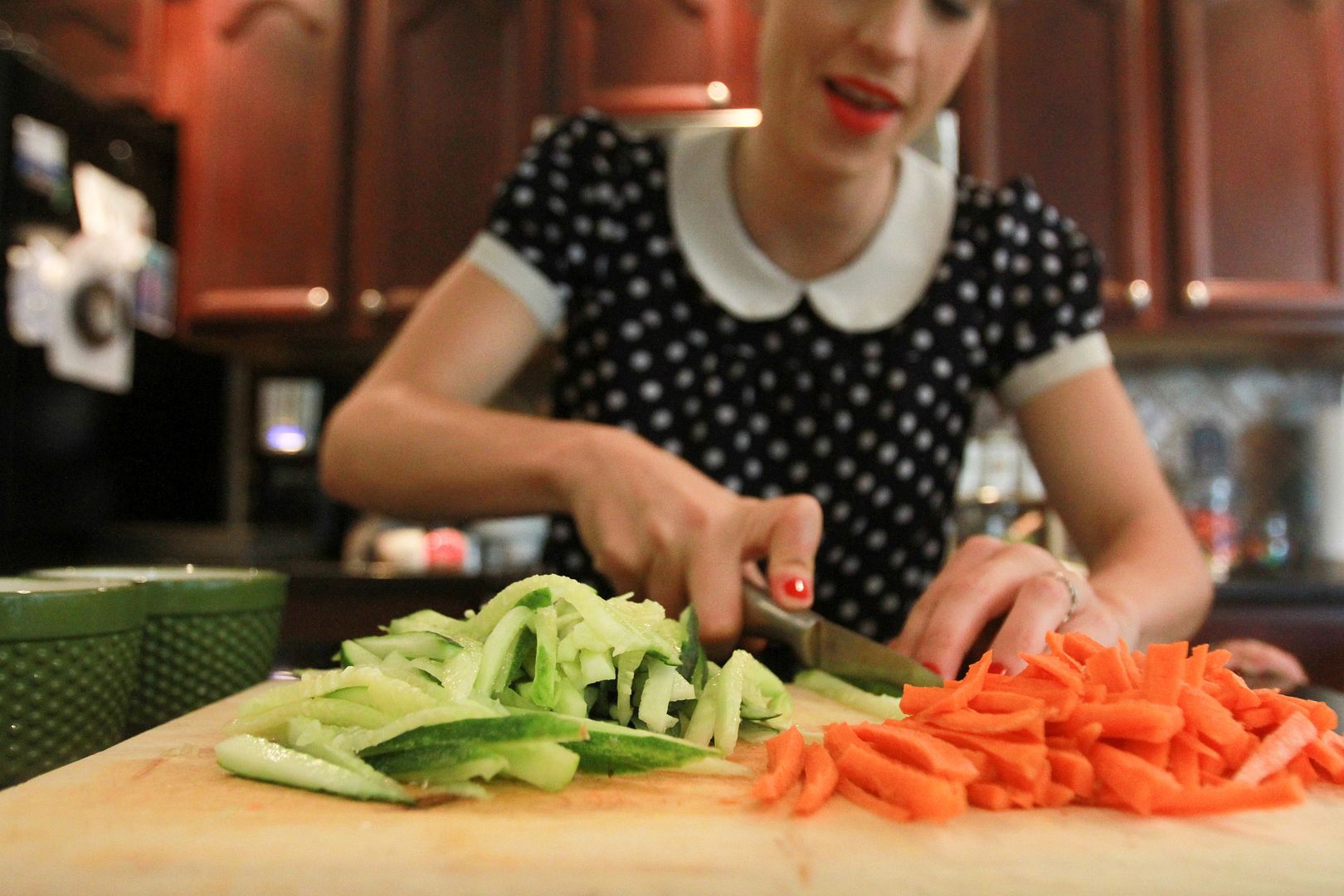 Lainey loved helping me fill the rice paper and roll them up, and we were so stoked about the finished product, we ran a couple rolls over to the neighbors so they'd be all "These are amazing, you are such an amazing cook!" Why, thank you.




Last week's oven fried chicken meal was another family favorite—Dash cleaned his plate completely. The vegetable side was delicious. Combining fresh corn and green beans and basil may seem simple enough, but when I'm reaching for the same 'ol corn on the cob side dish, I need someone to climb in my head and tell me "combine this corn with green beans and basil" for me to do it.




So, how does Blue Apron work? You get exact proportions of everything you need for three chef-designed meals a week sent to your home for either 2, 4 or 6 people at $9.99 a meal. Meals arrive in a refrigerated box, so even if you aren't home when it's delivered, everything stays fresh. Blue Apron is available nationwide and ships free to 80% of the country. There's no commitment—you can skip or cancel Blue Apron service at any time.

Blue Apron has extended a kind discount offer for readers—the first 250 readers will get two free meals on their first Blue Apron order.




Happy Eats. Happy Family.