This post is sponsored by Blue Apron.




I saw a collegiate t-shirt the other day on a shopper at Whole Foods that at first glance said YALE but upon closer examination, I realized, said KALE. Oh, I get it. Ha ha, how Whole Foods of you. I see you with your health food magazine and your green shake and your punny, punny shirt. Truth is, we are late to the kale game, mostly because giant green leafy things intimidate me. We were doing really good with lettuce, and then everyone was all KALE! KALE! So we joined the club. I felt like a kitchen goddess the first time I made kale chips, and when I put some in a smoothie, you might as well have just given me my own food show. I got it: Kelle's Kale Kitchen. And if you're from the south, Kelle's Kountry Kale Kitchen. Because spelling Country with a "K" is almost as funny as Kale for Yale. Kale goddess, I was.

So we've made kale chips and dropped some kale in smoothies. But chips and smoothies does not a kale goddess make.

You know what makes a kale goddess?

Creamed kale.

You know how I know?

Because my entire family ate it and loved it.




Our Blue Apron meal this month was one of my favorites so far--simple and easy to make but something I wouldn't have thought of on my own. And so savory and delicious: Seared Flank Steaks with Roasted Potatoes & Creamed Kale. You know what gets me excited about food? Reading menu descriptions. And who gets the job of writing those anyway? Best. Job. Ever. Tied, of course, with naming paint and nail polish colors. If I wrote the menu description for this meal, I would definitely use fancy words like succulent and pan-seared and...wait for it...delicately crispy.




I've written about our Blue Apron love before and now have several friends hooked on it. We don't use it every week, but it's definitely a nice treat for us when we do--like getting a pedicure or renting a movie. Our family enjoys cooking together, and there's something very special and invitational about a refrigerated box arriving on your doorstep with farm-fresh ingredients, just the right proportions of everything you could possibly, and easy-to-follow instructions for creative, delicious meals.

But the creamed kale? It was a family WOW moment.




The Blue Apron recipe called for wilting the kale (3- min) on medium heat in a little olive oil, water and salt and pepper and then removing it and finely chopping it. It's then returned to the pan after the steak is cooked so that it soaks up the steak juices. Add Parmesan cheese, garlic and butter, and then fall over because it smells so good.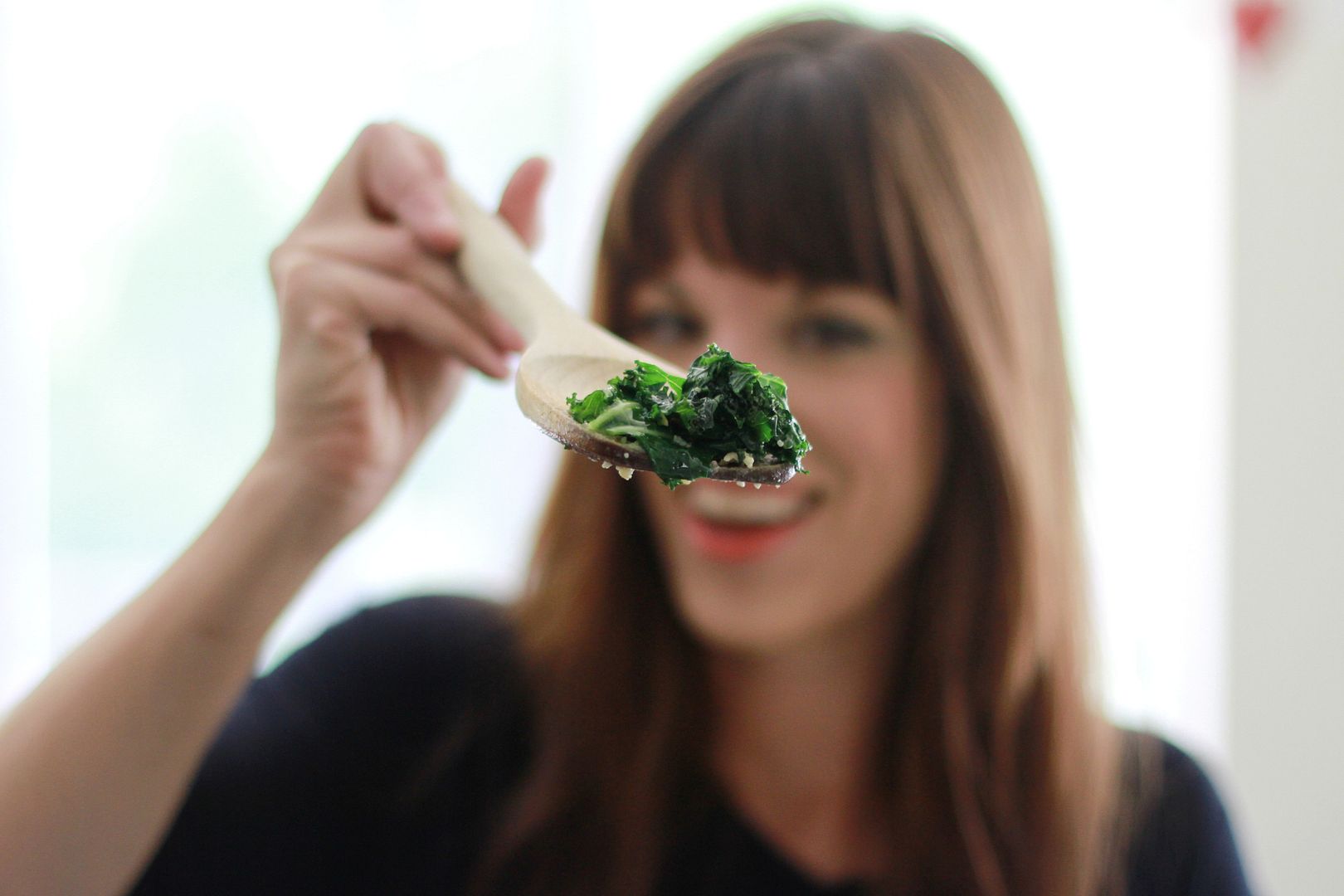 As for the potatoes, our menu description will include something like "trifecta of colors." I haven't settled on the exact wording, but look at these beauties! Red and yellow and purple--they look so pretty all cooked up on the plate.




We roasted the potatoes in olive oil and Old Bay Seasoning--a total Eureka combination discovery. From here on out--potatoes and Old Bay.




By making cooking easy, Blue Apron adds a huge fun factor to our meals. In other words, it's not always fun to take three kids to the grocery store, already hungry, right before dinner to scrounge around for something that looks good. In fact, that is the definition of hell. We love Blue Apron nights and have never been disappointed by their meals

You can browse their recipes here. Next on our list--Spice Thai Chicken Soup (cannot get my mind off this since I read the recipe) and Tom-Yum Style Shrimp & Noodles.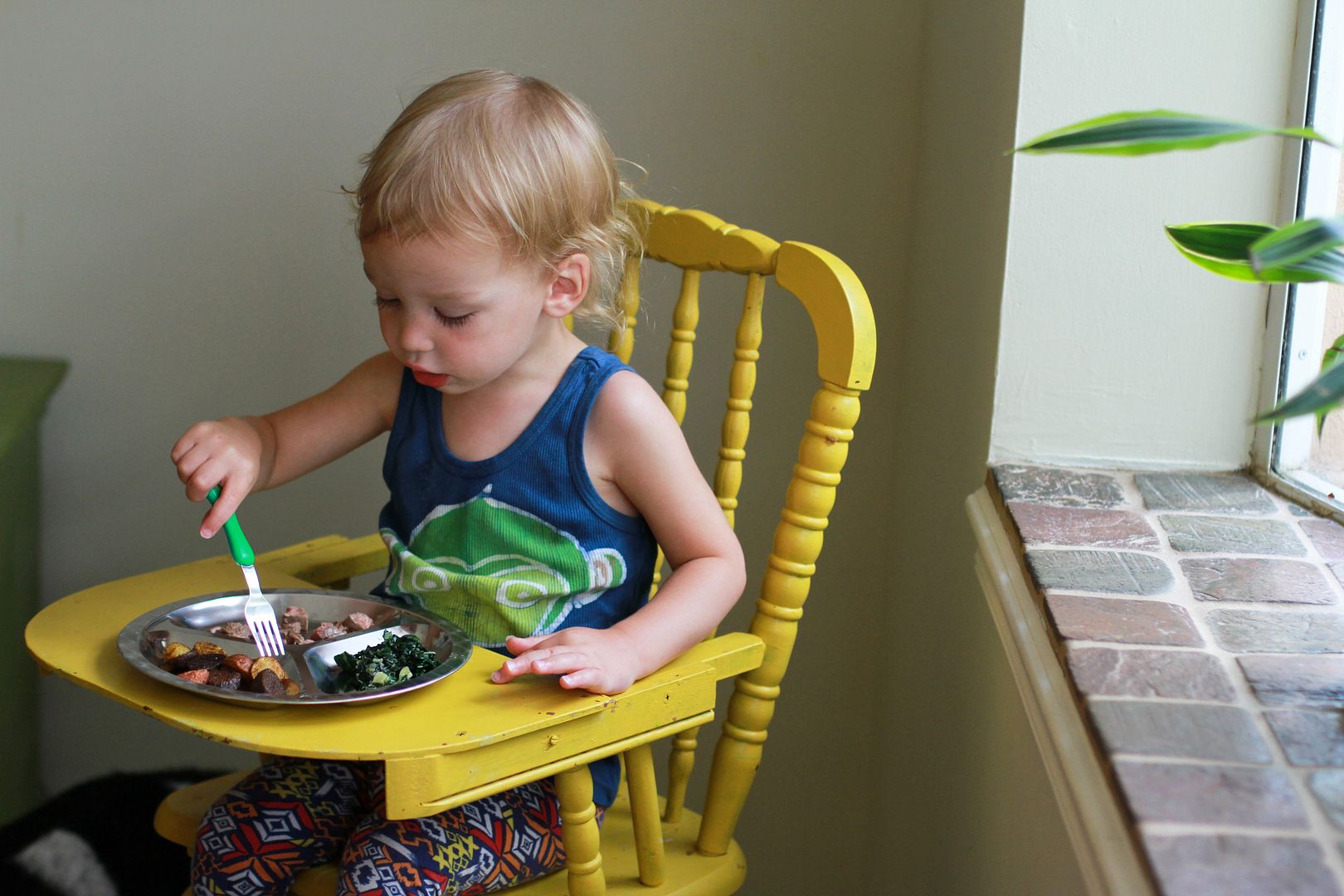 The first 100 readers to sign up for Blue Apron will get two free meals on their first Blue Apron order. You can sign up here.

We're thinking of taking this routine to the Kale Nationals.





Thank you Blue Apron for sponsoring this post, and thank you readers for checking out some of the brands we love that help support this blog.