This is our third Thrifted Sister Challenge where my sister and I unite our thrifting powers, from two different states, and each create 2 looks with only $20 in our pockets.

This week's 2 styles: A 9-5 look and a follow-up one for a post-work happy hour.

Also known as the one where we ironically thrifted the exact same shoes, 1388 miles apart.

9 to 5

Carin's look: Express Turtleneck, $1, paired with my own jeans, Leather boots (made in Italy!), $3.99. Total: $4.99


Kelle: Damn, girl. You have that look-off-to-the-side look down. You look like a Blair model from the Sunday Value-Pak.
Carin: Now that you say that, all I can see is Blair model. I hate that turtleneck now. My girls would say it looks like crust. And, it looks like you used some app on my chest. You're right - this photo reeks of Blair.
Kelle: Hi, Blair.
Carin: This is a great example of thrifting too far. Your standard changes. I would have never bought this had it been at some retail store.
Kelle: I know. I've done the same thing. Unless it's something awesome and crazy like a faux fur vest or studded leather. I wouldn't pay full price for a fashion experiment, but I might jump down the rabbit hole if it was a thrift steal. And just to clarify, Blair turtlenecks don't qualify as a fashion experiment. See, we learned an important thrifting lesson today.

Kelle's Look: Sweater (no tags, but it's not acrylic, it feels nice and heavy and I love the little sleeve gathers that give it an itty bitty poof at the shoulder), $5 paired with my own pencil skirt; Black leather heels, $5 (these heels are one of my favorite thrift buys now--they go with everything, perfect height), Total: $10



Carin: Can you imagine where you'd be without your morning planning time? Without your new planner? You should teach some classes on Planning and Organization.
Kelle: Oh, and I'd like to see yours, Miss Apple-Who-Fell-From-the-Same-Tree. I'll have you know that I showed up to two appointments this week with five minutes to spare.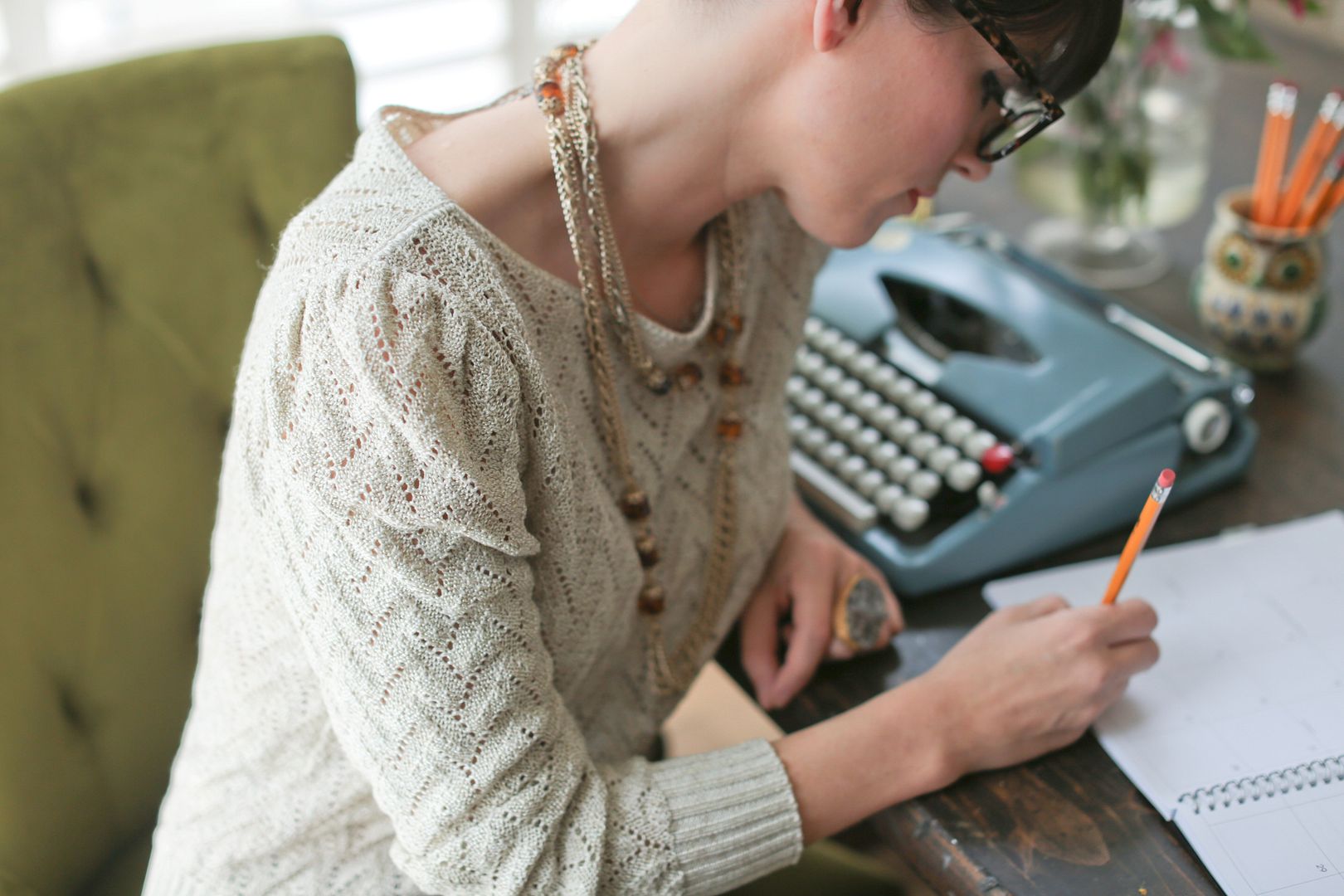 Happy Hour

Carin's Look: Mint Cotton Express Tank, 25 Cents; J Crew Cardigan, $2.99; H&M pants: $2.99; Black Leather Bandolino Heels, $3.99; Neon Target Belt, 99 Cents; and finally, (drumroll), Black Leather Hobo Purse, $2.99. Total: $14.20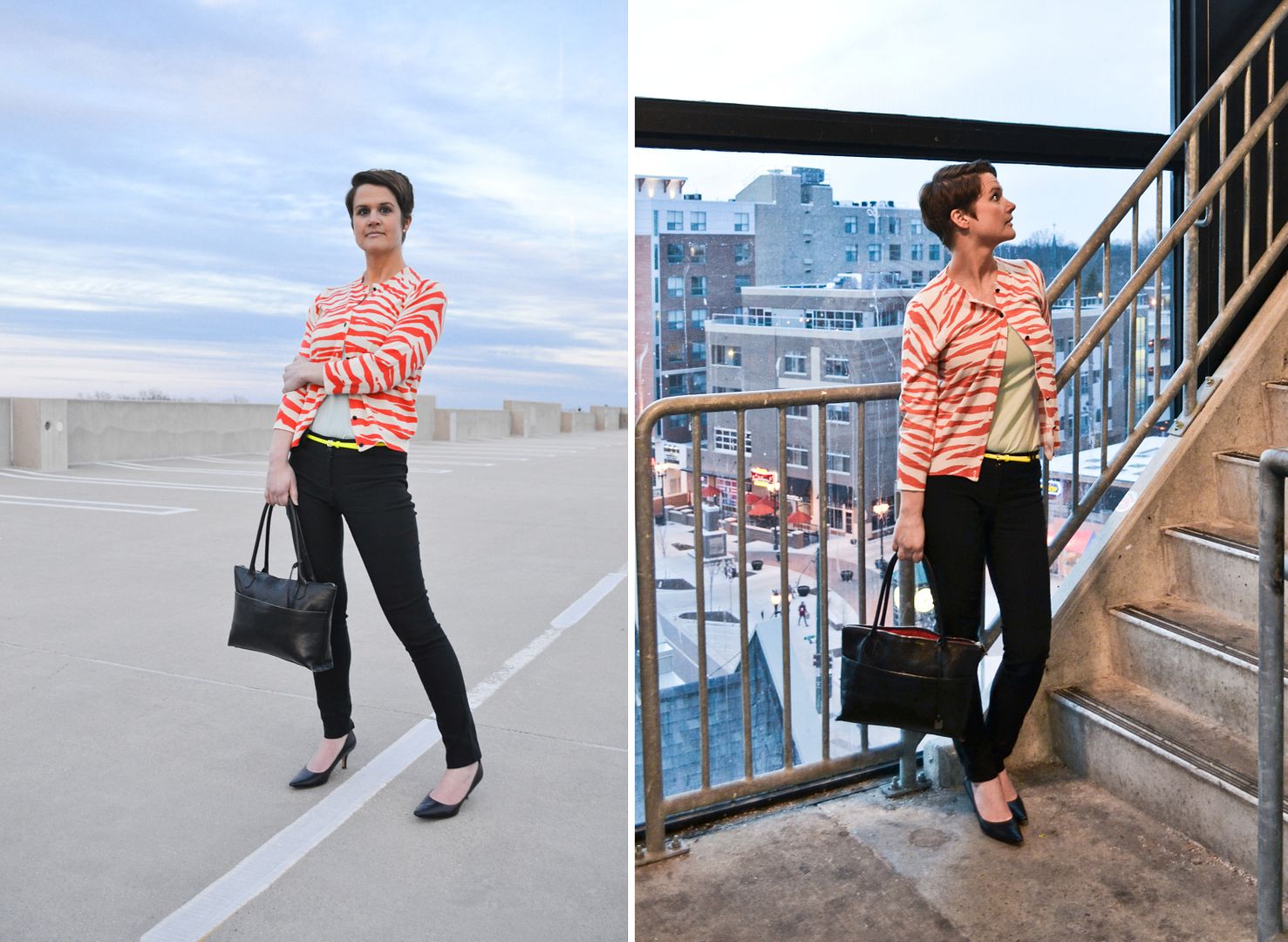 Kelle: I think it's so nice that your airport opens up a runway for happy hour. Also, yellow belt pop of color for the win. This outfit is awesome. And you look totally confident wearing it.
Carin: Airport...that just made me laugh.

Teenage daughters capture great moments: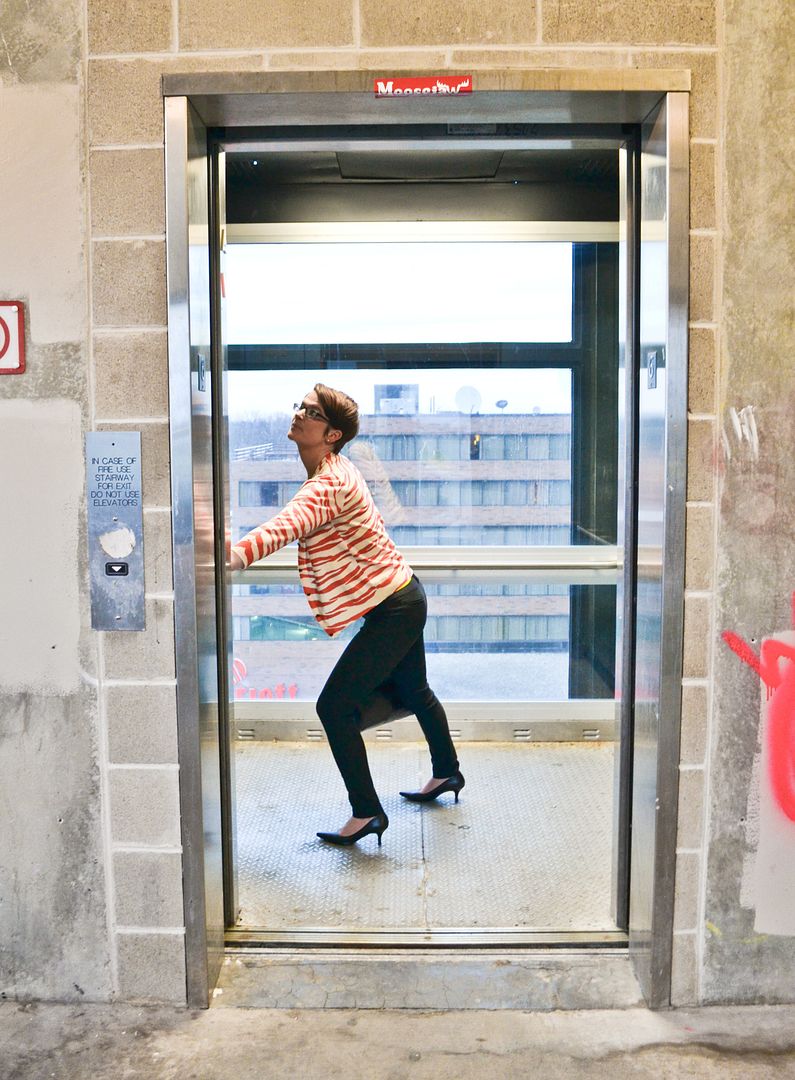 Kelle: Nice stance. So Lady Di of you.
Carin: I was rushing to meet important clients.
Kelle: Does your business card say Blair?

Kelle's Happy Hour Look: Striped Silk Blouse, $2.99; Mint Green Gap Skinny Jeans, $5 (I wanted these jeans when I saw them at Gap!)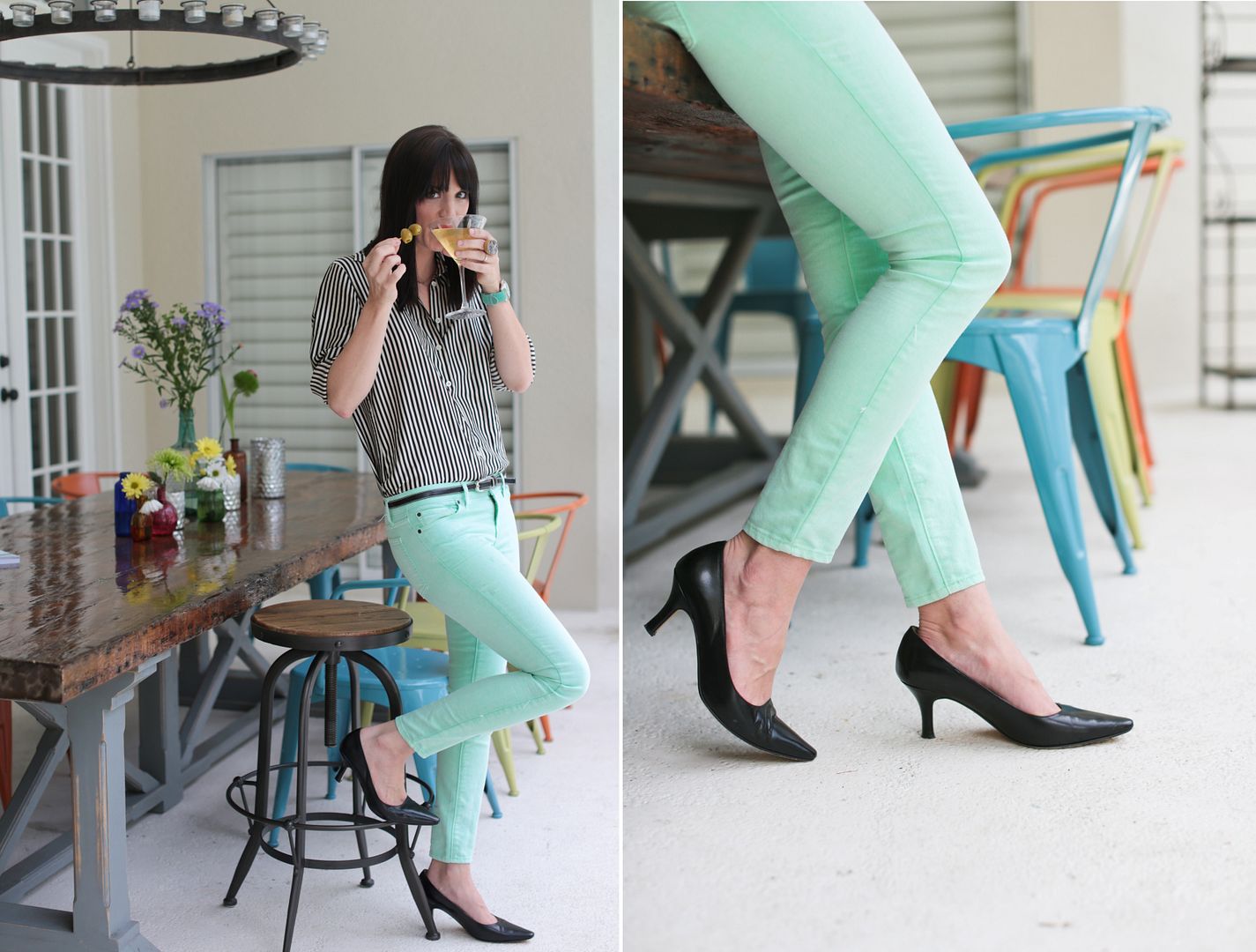 Carin: I think it's so nice that Heidi opens up her lanai for happy hour. You should seriously wear these pants every day. J Crew trumps Prairie.
Kelle: I should tell you that I almost didn't buy this shirt because it smelled old and funky, but I washed it by hand with lavender soap, and now it smells like flowers. Also, this isn't really a happy hour and I'm sipping straight olive juice from that glass.